Ranking All 9 Eminem Studio Albums From Worst To Best
The Real Slim Shady's Discography Ranked.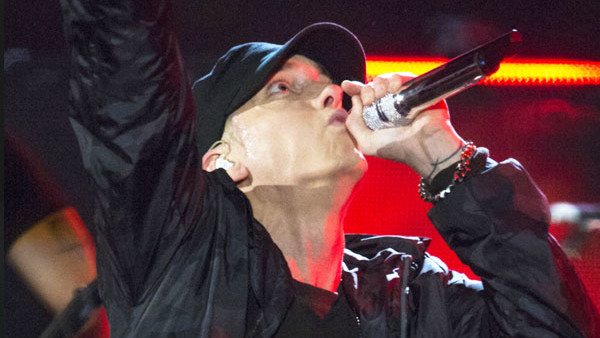 Marshall Mathers, better known as global rap superstar Eminem, has had an eventful life and equally eventful array of studio albums.
His arsenal of witty one-liners and his litany of self-deprecating lyrics are trademark for the Real Slim Shady, and have been constant sources of inspiration to young up-and-coming rappers for decades now.
There's an identity in his lyrics that, even if you weren't to hear Eminem recite them, they would be identifiable as his words, given his impressive vocabulary and mastery of rhythm when writing his verses. When comparing his works throughout the years, it's tough to find many songs that qualify as "bad", especially once Dr Dre became a frequent producer of his works.
However, this list aims, in the wake of Eminem's incredible Twickenham Stadium shows, to put his back catalogue of albums in order. And so, from his earliest, self-produced album to most recent release 'Revival', here are Eminem's albums ranked from worst to best.
9. Infinite
Eminem's first album, understandably, ranks as his worst, as he tried to commercialise his work to appeal to radio stations in Detroit, rather than honing in on his distinctive and, as it would turn out, immensely popular voice as a rapper.
While reports of how many copies of this record were sold, it is generally agreed that the figure is around the 1,000 copies mark, a far cry from Eminem's later multi-platinum albums. There is, however, some amazing potential in this album, which was rightly praised for its lyricism, a talent that a fresh-faced Mathers always had to boast, hence his eventual work alongside Dr Dre, and his global appeal once he had perfected his craft.
Moreover, the production of the album is generally considered to have held back some of Eminem's blossoming talent, which is yet another reason that Dr Dre's collaboration in later albums is so vital to Eminem's later success.
It's an interesting nostalgia trip, and worth a listen for anyone starting out to see how one of the all-time greats started at a level that most, with the right work ethic, could achieve themselves. However, it was this knockback from the album's disappointing sales and reception that would inspire one of Eminem's greatest creations, his Slim Shady alter ego.