The Greatest Professional Wrestling Concept Album EVER: Track By Track
The Guerreros, Luna Vachon, The Iron Sheik, and other wrestling icons honoured in song.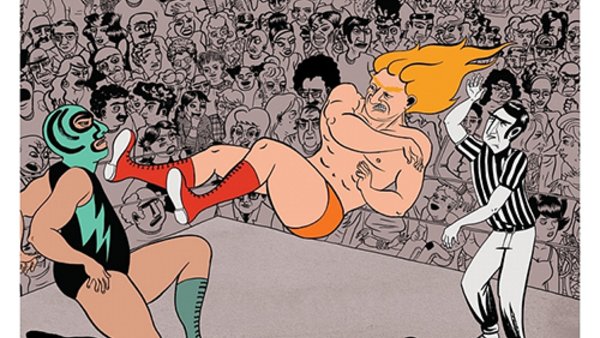 From Bad Bunny's recent involvement in WWE way back to Cyndi Lauper's WrestleMania I appearance, the worlds of professional wrestling and music have always run parallel to each other.
Nothing is as ingrained in the mainstream culture as music, likewise, wrestling has a huge fanbase that is often left untapped by musicians. This creates the potential for a mutually beneficial partnership.

Sports entertainment fans will always get a kick out of wrestling references in the wild. Whether it is Tech N9ne shouting out Randy Orton and Roddy Piper or Rivers Cuomo crooning about lost love while "watching Grunge leg drop New Jack through a press table". However, one musician (and his bandmates) took it a step further dedicating an entire album to professional wrestling.
John Darnielle performed solo and later as a band under the name The Mountain Goats. The indie project has been active since 1991 and has produced 19 studio albums, including 2015's Beat The Champ - a professional wrestling concept album.
He based the tracks around his childhood love of wrestling, attending live shows at the Grand Olympic Auditorium during the '70s, and his abusive stepfather who took him to the shows and sparked his love of wrestling.

Let's dive in...
13. Southwestern Territory
Killer Lyrics: In the squall of the ringside choir / High as a wire / Nearly drive Danny's nose back into his brain / All the cheap seats go insane.
A piano led track that gives John Darnielle's soft soothing vocals room to breathe, creating a confessional diary entry tone. The instrumental is slow and solemn with blips of muted joy.
The lyrics tell the story of an ageing wrestler using travel time between shows to reckon up his life's losses. He continues to wrestle, despite having a son he never sees. The narrator concedes to himself that his in-ring career is as futile as a dog chasing a car. Yet he can't give up, resigning himself to the fact he will "die on the road someday".
The track does a good job at capturing the duality between going from appearing in parades and competing to an arena in front of fevered fans, to driving alone and tired in the middle of the night. This is often cited by professional wrestlers as a duality they struggle with. It captures the irony that although he competes in a violent sport, it is the loneliness and the risk of late-night driving while tired that are inflicting a significant portion of the narrator's pain.