Where Are They Now? - The Headliners Of Download 2003
With a return to Download Festival on the horizon, lets look back to where it all started.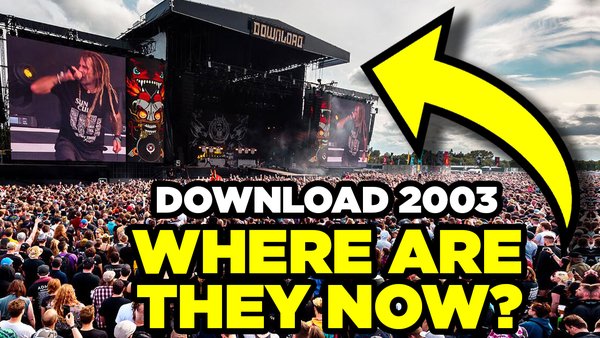 With the end of the pandemic seemingly in sight, festivals across the world are slowly making comeback announcements in a post-COVID world. Already, the likes of Reading & Leeds, Damnation, Creamfields and Isle of Wight have confirmed dates and acts for 2021 iterations, while Hellfest, Rock am/im Ring and Download all confirmed that while a 2021 edition is still impossible, 2022 dates have been set in stone.
The Download announcement in particular seemed to hit pretty hard in the UK, falling just outside the "safe zone" of the country opening up, but additionally, seeing contemporary rival Reading & Leeds announcing an even sooner return to our tent-thirsty greens, just felt like adding insult to injury.
While alternative music fans will have to wait one more year to see headliners Kiss, Iron Maiden and Biffy Clyro, at-home playlists, cyber hangouts and wistfully looking at the past will have to fill that void. Lets take a look back at the very first Download Festival from back in 2003, starting as a phoenix festival to the legendary Monsters of Rock Festival that ran from 1980-1996. For the 2-day iteration of the show, we'll be looking at the headliners of both days, their immediate sub-headliners, plus a few special attractions that made an appearance.
11. Special Attraction #1: Evanescence
The doomsday opera vocals of Amy Lee catapulted Evanescence to the stratosphere on their debut album 'Fallen' and in particular, with the lead single "Bring Me to Life". The iconic track was played on just about every medium you could think of back in the early 2000s, and even today remains the trademark song of the band. Fun facts: the male rap parts in the song were performed by 12 Stones vocalist Paul McCoy, and the band categorically did not want them in the song, with Lee stating in an 2013 interview that they had to include a male singer, or else the label would've dropped the band. Lovely.
Regardless, their meteoric rise caught the attention of Download booker Andy Copping who brought the band across for their first ever UK performance, putting them on mid-way through the bill on the main stage of Sunday. They would return to the venue four years later in 2007, sub-headlining to Iron Maiden on the main stage.
In the years since, they have built a deep appreciation from the rock and metal community (a bit of a rarity for former nu metal acts) and despite hiatuses and numerous line-up changes, they're still continuing strong, releasing 'The Bitter Truth' in March 2021.