4 Things We Learned From The Volcano Bay Story Reveal At Universal Orlando Resort
4. The Waturi
Volcano Bay is themed around the home of the Waturi people. As Dale explained, travelling the South Pacific in search of a new home, the water loving Waturi people eventually found Volcano Bay and called it theirs:
To begin this project we had to create a legend, a story that we could use as a basis for all the design. That's the story of what we call... the Waturi Legend or the story of the Waturi people, the watery people.
Dale explained that our encounter with the Waturi people begins with their journey to across the South Pacific;
We came up with this idea that long ago there were these Waturi tribe and they were searching for a new home... So they set out in their outrigger canoes, searching across the South Pacific... They went to Tahiti... Bali...New Zealand... Easter Island even. They made lots of friends, they absorbed the cultures. They brought with them some of that culture, music and design. But they didn't find their home.
The Waturi were looking for a place that was just theirs, a place that they believed would be shown to them by a mythical golden-fin'd fish called Kunuku.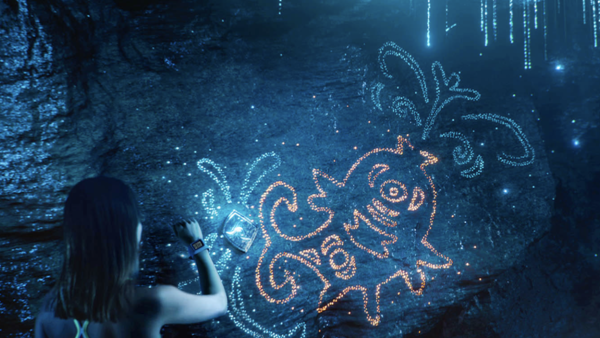 Eventually their journey would take them to the edge of the World, where as Dale explained, they eventually found Kunuku.
The children all dove into the water and played with Kunuku, and she turned to the people and said "You are ready". And she turns and swam away... the Waturi followed...within a day on the horizon they found this amazing smoking mountain, which is the volcano Krakatau.
So it seems that the Waturi found their home, and want to welcome us to their island paradise.