5 Moments That Defined Luis Suarez's Liverpool Career
Biting, mocking goal celebrations and THAT £40 million and £1 offer. Luis Suarez's Liverpool career created plenty of talking points.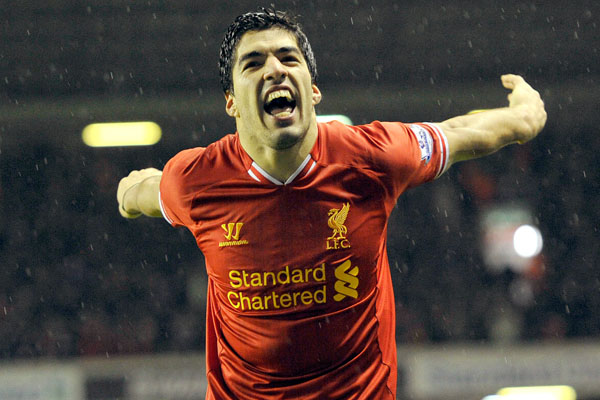 Clint Hughes/AP/Press Association ImagesLiverpool striker Luis Suarez has today
completed his £75 million move
to Barcelona, and will put pen to paper on a five-year deal at the Spanish club. The move brings to an end Suarez's three season spell at Anfield, and there have been plenty of talking points. On the pitch, the Uruguayan was undoubtedly brilliant, scoring 82 goals in 133 appearances for the Reds and winning the Golden Boot award last season after netting an astonishing 31 league goals in 33 outings - just one of the reasons why Barca have agreed to pay such a huge sum for the striker - the third largest in the history of Spanish football. Off the field, however, Suarez's career has been blighted by a string of controversial incidents, and he has found himself in hot water on numerous occasions in the past, perhaps no more so following his four month ban from all football related activity for biting defender Giorgio Chiellini in Uruguay's World Cup match with Italy this summer. It was the incident that sparked Suarez's move to Barcelona with Reds boss Brendan Rodgers admitting the club had done everything within their power to keep hold of the player - this proved one step too far. Suarez will never be forgotten by anyone at Anfield, and here we take a look at 5 moments that defined his Liverpool career.