5 Players Who Received A Hero's Welcome
5. Fernando Torres - Athletico Madrid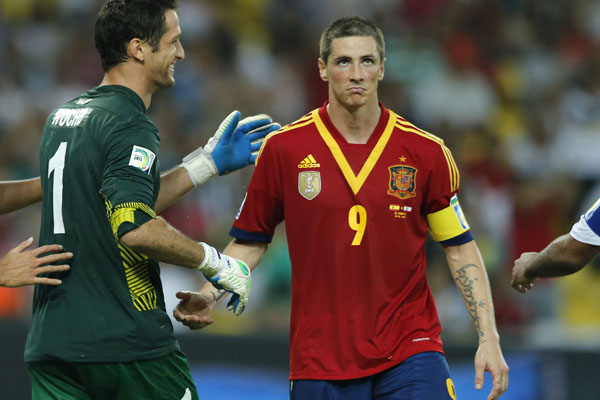 It€™s fair to say that Fernando Torres is never going to receive a warm welcome at Anfield. Following a forced exit to Chelsea in January 2011, it was a debut against his former club which awaited, in which he was booed, taunted and mercilessly goaded, as his profligate reign at Stamford Bridge began with a 1-0 defeat. However, this season he did receive something of a hero€™s welcome €" from La Liga champions and Champions League runners-up Athletico Madrid.
Having made no secret for his undying love for his hometown club, it was never held against the Spanish hotshot for leaving for Liverpool seven years ago in a £20 million deal. Having consistently hit double digit tallies in the league for Athletico since he was 19, the time was right to allow the 23 year old Spaniard to spread his wings across the English channel.
In April, Chelsea faced Athletico in a double-edged semi-final battle. Having gleamed out a priceless goalless draw in the Calderon, Mourinho€™s side were usurped 3-1 at Stamford Bridge a fortnight later. Torres, however, was treated to a warm welcome on his return to the ground he had left seven years earlier, with a round of applause echoing his every touch.
''It could not be more special than to return to the Calderon after seven years. Before and after, it was very emotional. The reception I will never forget. It is difficult to explain what I felt going onto the pitch, at the end of the game, when they sang my name. They have always given me more than I have given them.€™€™ €" Fernando Torres, April 2014.
At Stamford Bridge, he prodded home the opening goal, but fittingly, there was no semblance of celebration to accompany the finish, as sections of the Athletico support applauded their former golden boy.
With Diego Costa having been prized from Diego Simeone's clutches at Athletico, there have been musings of a return for the boy who left seven years ago. Judging by his profligate displays of late, however, his hometown club are now a step above his talents.