10 Amazing TV Action Set-Pieces That Rivalled Cinema
9. Spartacus - Spartacus & Crixus Vs Theokoles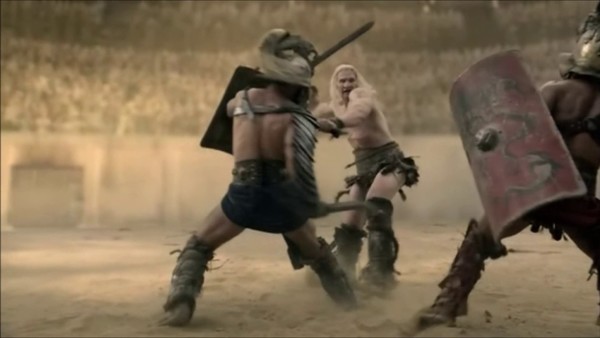 Green-screen ultra-violence was all the hype post Zach Snyder's adaptation of 300. Sam Raimi and Rob Tapert then cooked up the clever idea of retelling the Spartacus tale with modern flourishes for what was essential '300 meets Gladiator'.
Sure, the effects have dated yet there's no denying how enjoyably barmy and ambitious the action scenes play even to this day.
An iconic moment came mid-season 1 as rival fighters Crixus (Manu Bennett) and Spartacus (Whitfield) are grouped together to fight the undefeated (and perhaps supernatural) warrior Theokoles. It's a nail-biting duel that the two gladiators put asides their difference and battle as a team against this relentless foe.
It was all achieved with crazy effects, superb editing and a truck-load of bloody bombast - in a sequence that arguably outdoes anything from Snyder's popular movie.