10 Reasons Why Frasier Is The Best US Sitcom In History
They may now be off our screens, but that doesn't mean the Crane family have been forgotten.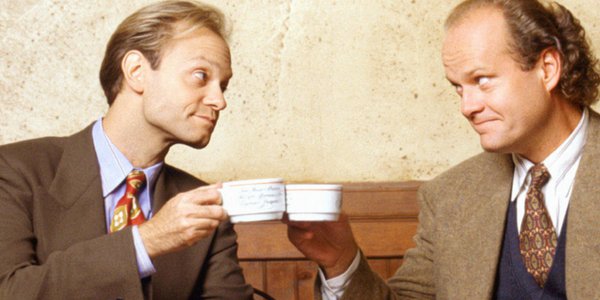 It's over twenty years ago since the first episode of Frasier first aired on NBC. A spin-off from the hit sitcom Cheers, it followed Dr Frasier Crane as he returned to his native Seattle and the family he barely talked about for eight years in the Boston bar (he debuted during season three as Diane's lover). Obviously, not all would run smoothly as Frasier soon found his bachelor pad overrun by his ex-cop father Martin, obsessive brother Niles, home-care worker Daphne and the irrepressible Eddie the dog. From the pilot episode on, the award-winning The Good Son, the programme became the go-to for excellent writing, brilliant acting and a level of emotion not often seen in primetime sitcoms. The interplay between the ensemble led to huge viewing figures (over 20 million for the pivotal season seven) and the programme became an awards magnet including an incredible 37 Primetime Emmy wins. Of course, America has a tight grip on excellent sitcoms. From I Love Lucy through to M*A*S*H, The Cosby Show, Cheers, Seinfeld, Friends and, more recently, The Big Bang Theory and How I Met Your Mother, the US has a rightly held a stranglehold on the format. The writers can, in an incredibly short time of about 22 minutes per episode, make us want to follow these characters for years of their, and our, lives. Many look at Friends as one of the most successful and, while it beat Frasier consistently in the ratings war, Frasier always had the better writing. Seinfeld ruled the roost for years, but the characters weren't as well-rounded as Frasier's. Two and a Half Men is just too throwaway to join their ranks, regardless of viewing figures. So, although Frasier clearly hasn't been forgotten, it's repeated as often as Friends, it isn't always held with the regard it probably should be. So (with a huge amount of spoilers) here are Ten Reasons Why Frasier Is The Best US Sitcom In History.