12 Doctor Who Gifs That Only True Fans Will Appreciate
God bless the Internet.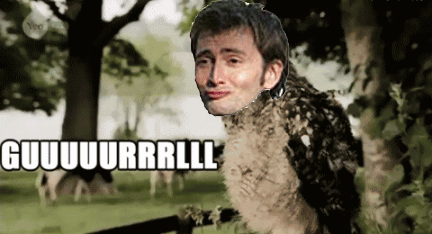 Doctor Who fans get a bad rep for being overly devoted to their cause and, well... socially inept -
*ahem*
- but, to give credit where credit's due, they sure as hell are a talented bunch. In fact, they love Doctor Who so much that they usually take to expressing their obesssion through the means of creativity, whether it's by writing their own fan fiction, drawing pictures or creating humorous Gifs and posting them online with the intention of earning a few extra brownie points from their fellow fandom brethren. Unless you've spent the last few years living in the Medusa Cascade, you'll know all too well what a 'Gif' is. For those of you who can't read the base code of the Universe, however, they're basically animated images that dominate your social media timelines and make you laugh out loud
way
more than you'd ever care to admit. Like, seriously. It's embarrassing. They're always a good way of brightening up your day, though, so get with the times and join us on a captivating journey featuring 12 Doctor Who related Gifs that only the true fans will appreciate. Admittedly, most of them contain David Tennant. Make of that what you will.