15 Similarities Between Friends And The Big Bang Theory
15. A Gorgeous Blonde Moves In And A Geek Has A Crush On Her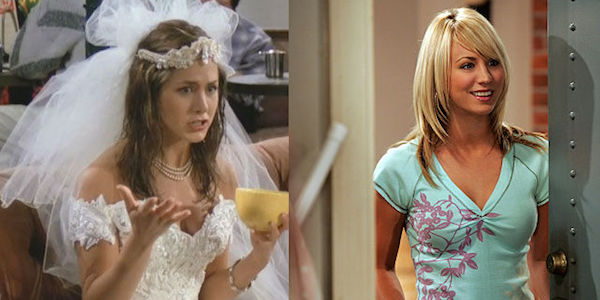 Friends:
Friends famously began with the now-iconic shot of Rachel Green interrupting several shots of the cast being funny in Central Perk whilst clad in a wedding dress. After arguing with her father, Rachel went on to move in with Monica. It quickly became apparent that Ross harboured feelings for Rachel, feelings which had existed for quite some years. He mooned over her for the best part of a season and a half until they finally got it on.
The Big Bang Theory:
On the other hand The Big Bang Theory begins with Penny moving in opposite and Leonard instantly falling for her. He, however, mooned over Penny for two seasons before Penny initiated their relationship. Whilst many other relationships occurred within both programmes, it is these two relationships with captured the fans hearts the most. The will-they-won€™t-they relationship of Ross and Rachel culminated in Rachel getting off the plane, whereas The Big Bang Theory split their pairing up only to get them back together. With wedding bells on the cards, it looks as though their journey is going to be quite different.