'Preacher' Season 3: 5 Ups & 2 Downs From 'Sonsabitches'
Ups...
5. Jesse & Cassidy's Feud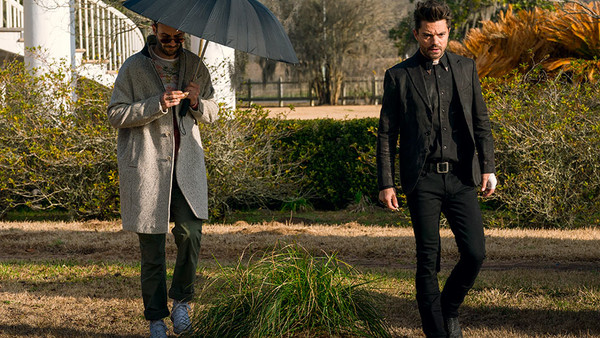 It's long been proven that Cassidy is the comedy MVP of Preacher, but it's also worth mentioning just how great he is in the show's more serious scenes too. After Jesse learned of Cassidy's one night stand with Tulip, there is an understandably tense atmosphere when the two supernaturally-gifted individuals are in the same room. Tulip picks up on this animosity, but the two men won't tell her why they've fallen out. Conflict galore.
While Jesse and Cassidy make a great team, it's wonderful to watch them at each other's throats. It's been a while since we've seen a proper altercation between the two best friends, and the events of last week's episode have potentially changed their friendship forever, so it'll be really interesting to see where this feud goes. Moreover, storylines like this one give both Dominic Cooper and Joseph Gilgun great material to work with, as both actors deliver top-notch performances as their characters vie for Tulip's affection.