8 Spooky Predictions Ricky Gervais Got Right In Extras
A modern day Nostradamus.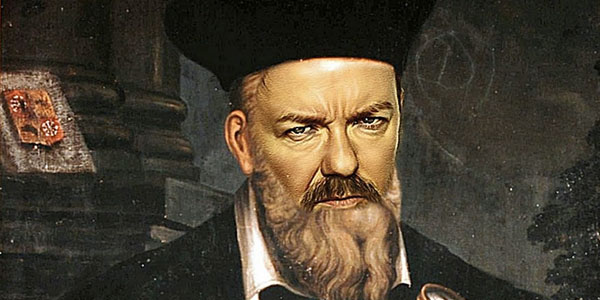 Ricky Gervais is basically a wizard: not only did he manage to make Karl Pilkington an accomplished actor in Derek, he also gave Les Dennis - the tragi-comic British TV antique - a career after years in the harsh wilderness of indifference. And if that wasn't enough, he also moonlights as a sage predictor of the future.
Gervais himself has proclaimed himself the modern Nostradamus after he stated that his sophomore TV show, Extras, had predicted three major events (more of which later), when a news presenter made a fairly catastrophically stupid error while interviewing Samuel L Jackson. And other voices across the web have acknowledged Gervais' unlikely magical skill, including the GervaisFanArt blogspot who published the brilliant image above in response.
But those three predictions are not even the half of it, as the show actually foreshadowed 7 things in the future of cast members, including Gervais himself. The question we really have to ask at this stage is where will it all end?
Will Sir Patrick Stewart appear in a show about a perverted superhero with the ability to make women's clothes fall off?
Will Vinnie Jones threaten Ross Kemp with violence?
Will Gervais accidentally cause injury to Warwick Davis?
The answer to all three of those is clearly "very possibly, yes," and it seems only a matter of time before Robert De Niro is discovered to have a penchant for novelty pornographic pens.
So, aside from the likelihood of those impending revelations, what exactly did the multi-award winning show predict in its all-too-brief history?