American Horror Story: Apocalypse - 7 Ups & 1 Down From 'Return To Murder House'
The queen of AHS makes a triumphant return.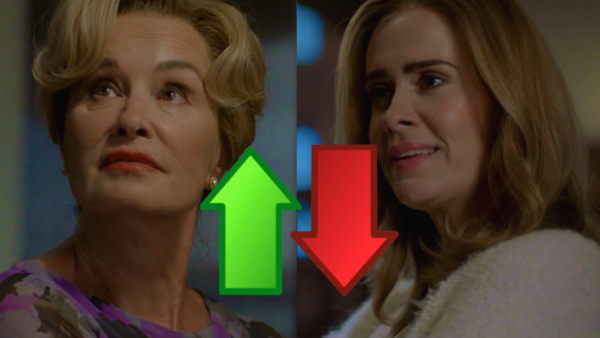 Contains spoilers from American Horror Story Season 8, Episode 6.
American Horror Story: Apocalypse has been on a bit of a roll lately, what with the return of the central Coven characters and the post-apocalyptic narrative. However, this week's episode - entitled Return To Murder House – proves to be the best yet.
As you can guess from the title, this is the episode everyone has been waiting for. Following on from last week's shocking conclusion, Madison and Chablis show up at the series' original setting, the creepy Murder House, looking for answers in relation to the Coven's new male supreme, Michael Langdon. Once they're inside, they encounter some of the greatest AHS characters of all time, including the incomparable Constance Langdon.
Jessica Lange, Frances Conroy, Evan Peters, Taissa Farmiga, Connie Britton and Dylan McDermott all reprise their Murder House roles for this special episode, and the result is something pretty spectacular.
It might sound like some serious camp fan service, (and in many ways that's exactly what it is), but the nods to the past and the returning characters do not overshadow the unsettling truths uncovered by our protagonists. Return To Murder House is not only the strongest episode of American Horror Story this season, it's the best instalment since the Freak Show finale.