Doctor Who Big Finish: Masterful Review
Doctor Who fans! Big Finish has a Masterful 50th anniversary special.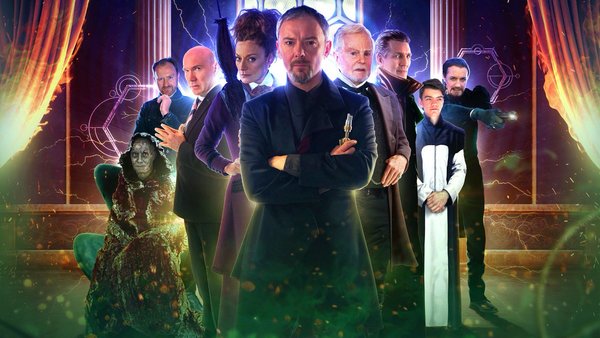 On 2nd January 1971, Terror of the Autons part one aired, and with it debuted the Doctor's arch nemesis, the Master.

To celebrate the Master's 50th anniversary Big Finish's Masterful sees the on-screen incarnations of Geoffrey Beevers, Eric Roberts, Sir Derek Jacobi, John Simm and Michelle Gomez return to their respective incarnations, as well as Big Finish's own incarnations played by Mark Gatiss, Alex Macqueen and Milo Parker.
The synopsis reads:
"The Master's finally done it. He's won. He summons his other selves to a celebration of his ultimate victory. And they come - from across time and dimensions. But he's forgotten to invite someone. And Missy's not happy.
Has the Master really conquered the universe? Or has something more awful been unleashed? Something that even all the Masters cannot stop?
Missy is determined to reveal the truth. Because one fact about the Master's existence never changes. No-one can trust the Master.
Not even the Master."
SPOILERS BEYOND
The story wastes no time and gets the Masters, assembled from the off by having incarnations arrive for a 'party'. Starting with Beevers, Parker, Roberts, MacQueen, and even Anthony Ainley's incarnation (thanks to the wonderful Jon Culshaw as Kamelion) arriving, followed by Derek Jacobi's wonderful War Master. As with any multi-incarnation event they reminisce before turning to bickering, which is halted when it is revealed Simm's incarnation has 'won', claiming to have killed the Thirteenth Doctor and become THE Master of the universe. However, this union is then broken by Missy turning up and gate crashing after not being invited. This quick opening is very refreshing as most multi-Doctor specials wait until the end before all the incarnations are united.
And if all these Masters weren't enough, there is one more guest to the party: Jo Grant. As well as being the debut of the Master, Terror of the Autons also saw the first appearance of Katy Manning's wonderful companion Jo. However, in terms of plot that's where we'll leave this, as you should find out the rest for yourself!
Obviously, this is a release to celebrate the Master, rather than Doctor Who as a whole. And therefore, whilst the whimsy of the show is still present, the story's tone is a lot darker, which seems fitting for the Master. James Goss' script is absolutely magnificent, full of fun, wit and mad excitement, keeping you gripped throughout its colossal three hour plus runtime. The story really explores the Master's character, as well as who they could have been depending on the choices they make. This release brings together an epic cast, and no one is slacking, all delivering tremendous performance, with special nod for John Simm on his audio debut and knocking it out the park. As a celebration of the Master, and Jo, the whole cast is given plenty to do, with nobody left on the side lines.
Upon its release, producer David Richardson revealed that Masterful required nine studio recording sessions, which have been seamlessly brought together by sound designer Joe Kraemer. Also providing the music, Kraemer makes an exceptional job of bringing this whole story to life, creating a score and sound design which is outstanding.
This is certainly an epic Doctor Who story, which any fan would be blown away by. Packed full of cameos and references, this is exactly how to celebrate such an iconic character. An impressive way to celebrate one of Who's most loved characters. And hats off to Big Finish for delivering such a huge adventure, you should definitely check it out!
Masterful is available on the Big Finish website now.
But the Master isn't done at Big Finish for 2021. Already announced for this year, is Master! due in March with Eric Roberts, and the War Master: Killing Time featuring Sir Derek Jacobi.
Create Content and Get Paid
---