Doctor Who: Out Of Time 1 Review
I doubt the Daleks were expecting twice the Oncoming Storm.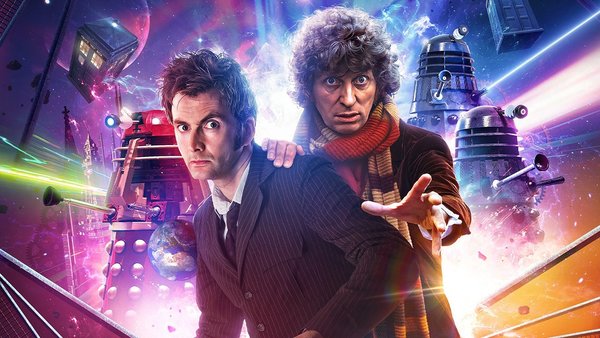 Big Finish Productions is a gift that keeps on giving. Not only did we have the announcement a few weeks ago that the Ninth Doctor, Christopher Eccleston, would be making his grand return to Doctor Who via Big Finish's spectacular audio dramas, we have now been blessed with the first part of Doctor Who: Out of Time. This trilogy of original audio adventures sees the Tenth Doctor pit himself against his most iconic foes, with a former familiar face at his side.
Doctor Who: Out of Time 1 features the dashing Tenth Doctor (David Tennant), and the calm, calculating Fourth Doctor (Tom Baker). While both finding solace within the Cathedral of Contemplation, the barriers keeping visitors from different times apart begin to break down, and havoc ensues further when the Daleks arrive, seeking to use the pan-dimensional power of the Cathedral for their own destructive gain. It's always an exciting prospect to see Doctors from Classic and NuWho meet, even when in the most dire circumstances. The only significant times we've had cross-era meetings before have unfortunately been short lived. Time Crash with Peter Davison, and The Day of the Doctor with Tom Baker's 'The Curator' were meetings that both lasted less than ten minutes.
However, in Out of Time 1, you're getting Doctors Four and Ten for sixty whole minutes. This is the first time these two incarnations have met, and I don't think I need to tell you that it's an absolute delight. Tom Baker and David Tennant are a match made in heaven. While Doctors past bicker with each other when meeting (something Four and Ten still do here), when things fall into place for the pair, their cheeky wit combined could blow a Dalek's head clean off with just a few words - so imagine what they're capable of with more than a duologue.
The setting of this adventure transcends the concept of time itself, but both Doctors drop hints as to where they are in their respective timelines, giving listeners the ability to pin-point exactly what mindset these Doctors are in. When Classic and NuWho Doctors come together, you get to experience the sheer change in The Doctor's persona during the events and aftermath of the Time War first-hand. Though the Fourth Doctor is still rather sick of dealing with the Daleks, even he is rather taken aback at the sheer rage the Tenth Doctor emits when up against his oldest enemy. This hour-long story, penned by Matt Fitton, manages to perfectly balance the back and forth between two Doctors, all while keeping the persistent Dalek threat relevant.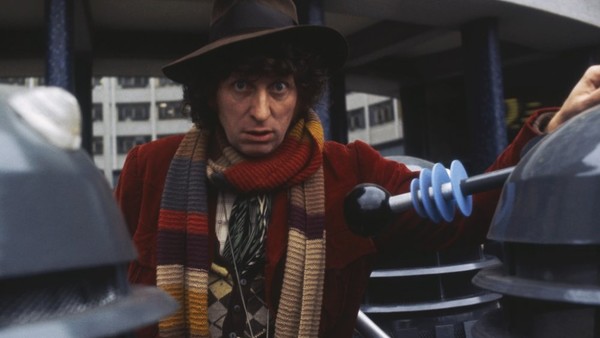 Big Finish Productions have delivered an incredible adventure you'd think would be reserved for the next big Doctor Who anniversary special. Hearing Tom Baker and David Tennant bounce off each other as their respective Doctors, all while Nicholas Briggs gives yet another fantastic performance as the Daleks, Doctor Who: Out of Time successfully transports the listener to within the walls of the Cathedral of Contemplation, and it's an absolute blast to be between two of the most iconic incarnations of the Doctor.
But If that's not enough double-Doctor action for you, David Tennant will be returning in Out of Time 2 - The Gates of Hell alongside Fifth Doctor (Peter Davison), and with Sixth Doctor (Colin Baker) in Out of Time 3 - Wink, to release in 2021 and 2022 respectively. It's safe to say that I'm excited to hear more of the Tenth Doctor dash about with his former selves. Doctor Who: Out of Time is a blast from start to finish. Allons-y!
Doctor Who: Out of Time 1 is now available from the Big Finish website.
Create Content and Get Paid
---