Game Of Thrones: 10 Things We Learned From "First Of His Name"
Basically, don't anger Hodor, or a kid capable of possessing him.
It€™s hard to believe, but we€™re halfway through season 4 of Game of Thrones. Less than a month ago, we welcomed back these characters to our TV, computer and other assorted screens after being away from them for almost a year. So much has happened in these five episodes. Joffrey was killed, Tyrion was framed, Sansa was smuggled away, Daenerys liberated a city, the list goes on. The pacing, the character development, the action, it€™s all been outstanding and proves why Game of Thrones is one of the best shows on television. This season continued the trend, although compared to €œThe Lion and the Rose,€ things are moving slightly slower than previous episodes. Nevertheless, there were still many notable events. Secrets were revealed, characters to the next step forward in their lives, and a couple people even got killed. This episode also broke a couple of records. 7.1 million viewers tuned in on the first airing, which not only surpassed the 6.9 million viewers of €œOathkeeper,€ but also marks the first time an HBO show went past the 7 million mark. Clearly the Game of Thrones hype isn€™t dying down any time soon, and the show€™s popularity rises with each new instalment. But enough of about viewership numbers. Let€™s take a look at the 10 things learned in €œFirst of his Name.€ As usual, no book spoilers here, just TV analysis and discussion.
10. Tommen Baratheon Has Been Crowned King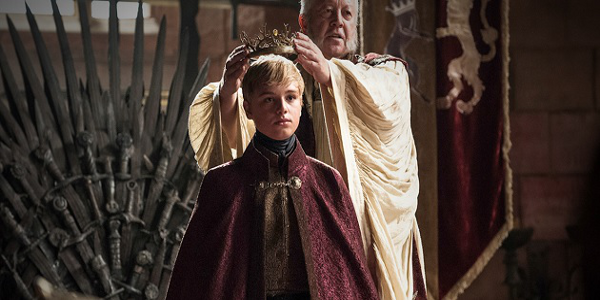 It was guaranteed that Tommen would take the throne, but they still had to get the official ceremony out of the way. Now it€™s official: he is the new ruler of Westeros, and his first act as king is to listen to his new subjects pay their respects to him. As each person passes, Tommen catches Margaery€™s eye and they share a moment, which is quickly cut short by his mother. After chatting briefly, Cersei asks Margaery whether she still mourns Joffrey. Margarey answers yes, stating that he was her husband, to which Cersei retorts, €œHe would have been your nightmare.€ Cersei admits that even though she loved her firstborn son, the things he did shocked her. As for Tommen, she speculates that he may be the first king in decades to deserve to sit on the throne. Realizing that her influence on Tommen won€™t be enough, Cersei asks Margarey to help him be the best king he can be. Margarey claims she hasn€™t even given any thought to still being queen (unlikely) but she€™ll speak to her father about it. We€™ve consistently seen Cersei badmouth Margaery and the Tyrells for several seasons now, so for her to suddenly change her perspective is unusual. Has she had a change of heart? In the wake of Joffrey€™s death, has she realised that that she has to work with Margarey to make sure that Tommen is an effective ruler? Nah, that doesn€™t sound like Cersei at all. She€™s got ulterior motives up her sleeve.