Game Of Thrones: 10 Things We Learned From "First Of His Name"
9. The Lannister Funds Have Run Dry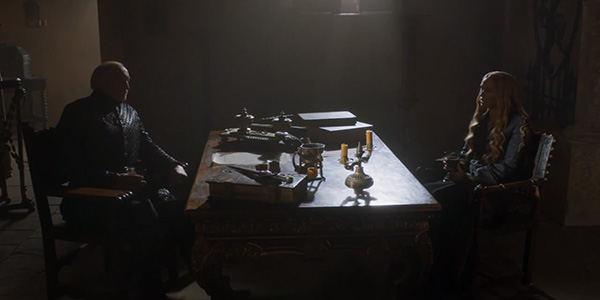 After Tommen€™s coronation, Cersei and Tywin discuss when Tommen should get married to Margarey. They agree to a fortnight, which is long enough for the future king and queen to mourn Joffrey. Cersei also says that her wedding to Loras should take place a fortnight after Tommen and Margarey€™s wedding. Tywin states that even though they dislike and distrust the Tyrells, they need an alliance with them because they have vast resources. According to Tywin, the Lannister funds are gone. Their last gold mine ran dry three years earlier. As a result, they owe the Iron Bank of Braavos a tremendous amount of money. Working with the Tyrells will allow them to start paying off their debts. Cersei understands the need to do what€™s best for the family, but then tries to influence Tywin to execute Tyrion without a trial. Tywin won€™t talk about it, but points out that their legacy is the only thing that matters. Tywin turned his back on Jaime because he refused to contribute to their future so she wonders what Tyrion deserves for lighting that future on fire. It€™s been hinted in previous episodes that the Lannisters are broke, so for Tywin to admit it to Cersei means that things are desperate. It€™s likely that the Bank will soon approach the Lannisters to start paying their debts, and if Tywin isn€™t adequately prepared to give them the money, there€™s going to be trouble. There€™s also the letter that Davos composed to the Bank several episodes ago. Sure, he could be asking for funds for Stannis, but it€™s looking more likely that he€™s informing the Bank of the Lannister debts. As mentioned in a previous article, this series is taking on more economic developments.