Game Of Thrones: 10 Things We Learned From "First Of His Name"
8. Cersei Needs Oberyn To Do Her A Favor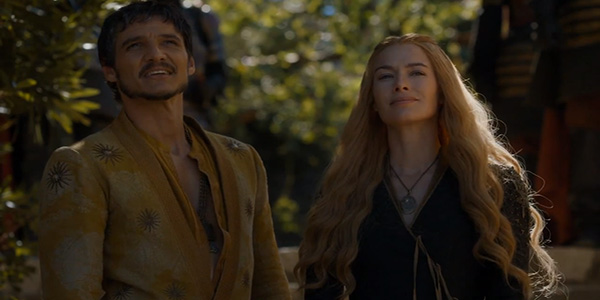 It seems the Queen Regent is feeling extra sensitive this episode. The next day, she stops to see Oberyn, who is writing poetry outside. He tells her he€™s writing the poem for one of his daughters, of which he has eight. The fifth, who he named after his sister Elia, is apparently difficult, and Oberyn admits that when he hears his sister€™s name, he grows angry. Cersei points out that the gods love their stupid jokes, like how Oberyn couldn€™t save his sister and how she couldn€™t save her son from being killed, despite both their lofty positions. They reach a spot near the bay, and Cersei states how she hasn€™t seen her daughter Myrcella for over a year. For those who don€™t remember, she was taken to Sunspear last season to be kept safe in the events preceding the King's Landing riot. Oberyn says the last time he saw her, she looked happy playing with two of his daughters. Cersei points to a ship in the water and asks Oberyn to send it down to Myrcella and tell her that her mother misses her. Cersei may be a lot of things, but as Tyrion pointed several episodes ago, she is still a loving parent. Despite Joffrey€™s atrocities, she still loved him with all her heart, and she€™ll do whatever it takes to keep Tommen safe from harm. She can€™t watch over Myrcella directly, but she can still let her know that she cares about her. Enjoy these loving sides of Cersei while you can - they disappear as quickly as they come.