Game Of Thrones: 8 Things We Learned From "The Watchers On The Wall"
Who needs a ram when you've got a giant?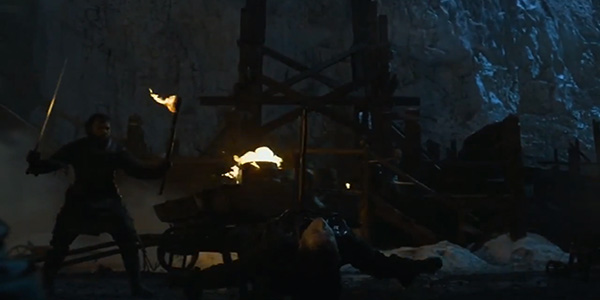 Back in season 2, Game of Thrones gave us an episode called €œBlackwater.€ Instead of switching between locales as per usual, that episode took place solely in King€™s Landing and followed Tyrion, Cersei, Joffrey and the other denizens there as they fought against Stannis Baratheon€™s invading forces. There may have been fewer characters, but the destructive battle we saw unfold blew us away. We€™d seen smaller battles before, but this was the first large scale conflict the show had ever produced. There were many causalities, and by the end, King€™s Landing managed to repel the invaders from Dragonstone. There have been exciting episodes of Game of Thrones since then, but none were the same type of grand spectacle that €œBlackwater€ gave us...until now. Bringing back €œBackwater€ director Neil Marshall, €œThe Watchers on the Wall€ was another self-contained episode. During season 4, Jon and the men of the Night€™s Watch have been preparing for the wildling attack. Meanwhile, Ygritte, Tormund and the wildling troops that scaled the Wall last season have been terrorizing the northern villages and slowly made their way back towards Castle Black to launch their own attack simultaneously with Mance Rayder€™s army. Well, that day finally came. It was a savage battle. The outnumbered Night€™s Watch faced wildlings from both sides, and despite having the high ground and a lot of improvised weaponry, many were lost. The wildlings had casualties as well, some more notable than others. Wait, you don€™t want the whole thing ruined right now, do you? Of course not! So sit back and take a look at the eight things we learned from €œThe Watchers on the Wall.€