House Of The Dragon Episode Seven Review - 7 Ups & 3 Downs
7. Up - Qarl Correy's abrupt U-turn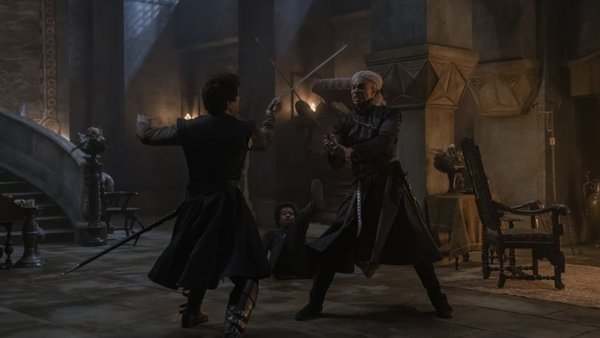 Arguably one key element of House of the Dragon's booming success has been the show's approach to adapting Martin's source material. While the majority of the storyline has remained true to events as they occur in Fire and Blood, the show runners have added minor wrinkles to enhance the story for television to great effect.
The latest tweak on Martin's story appeared in the shocking climax to Driftmark. In Fire and Blood, Laenor is killed by his lover Qarl Correy in an alleged dispute over jealousy and the episode appears to be true to form. Qarl is plied with coin by Daemon on Rhaenyra's instruction and confronts Laenor with a drawn sword in the Driftmark hall; a horrified Corlys and Rhaenys enter soon after to find what appears to be the charred remains of their son's body crackling away in the fireplace.
However, in an intriguing twist, it is revealed soon after that Laenor faked his death to pursue his long awaited wish to go gallivanting off to far away places with Qarl, and given his death in Martin's canon it will be interesting to see whether Laenor pops up again. One slight criticism to be made however is that it made Rhaenyra's purported sinister vibe feel somewhat anti-climactic; viewers were convinced that she had heartlessly had Laenor murdered following an impassioned pledge by the latter to be a better husband and father.