Mad Men Season 7: 25 Best Moments From Time Zones
It's back, and just as stylish as ever.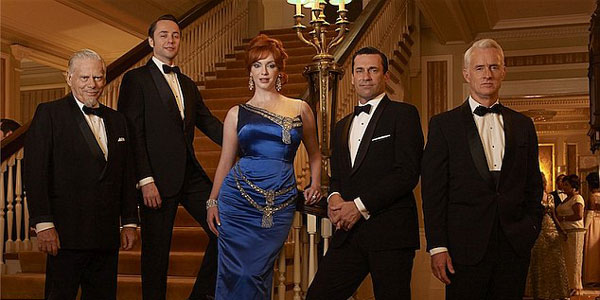 On Sunday April 13th, Mad Men began its seventh and final season with an episode entitled Time Zones, exploring the ever-expanding world of the show as many of its main characters now reside in Los Angeles, all the way across the country from Don Draper & Co's normal stomping ground of New York. Unfortunately for the eager fans, this season will be split in two seven-episode parts (like recent seasons of Doctor Who and the last of Breaking Bad), with the second half airing in 2015 which, really, makes it more like two shorter seasons. Time Zones brilliantly threw us back into the world of the newly-reformed Sterling Cooper & Partners, setting the scene for a final season like none other. But how did it do that? And what were we prepared for, exactly? Here are 25 key moments from the episode, less washing us in advertising juice and more dropping us in the deep end of it.
25. The Opening Titles
This isn't exclusive to the episode, but it's both comforting and exciting to see the show's opening titles again, accompanied by RJD2's 'A Beautiful Mine', and it's been a while since it was last on, so it invites us to fall off the building back into the world of Don Draper & Co. Unlike some lengthy titles, Mad Men's never seems to age or become too much, like the full-length Cheers or Boardwalk Empire opening titles.
24. The Accutron Pitch
Perhaps not the opening scene that you might expect, we begin with a pitch for an Accutron TV advert, told to Peggy. It's a powerful ad, brilliantly described, and becomes the centrepiece for Peggy's main storyline throughout the episode.
23. Roger's Wake-Up Call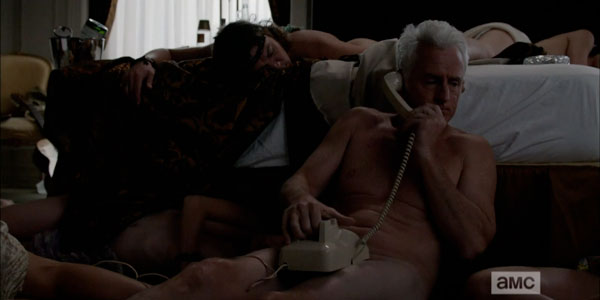 Where else would we find Roger Sterling but waking up, naked, apparently in the middle of a post-orgy slumber party? Apparently, on the phone to his daughter, who seems to be ready and willing to embrace her father into her life. And it just wouldn't be Mad Men without quite a bit of sex and skin.
22. New Faces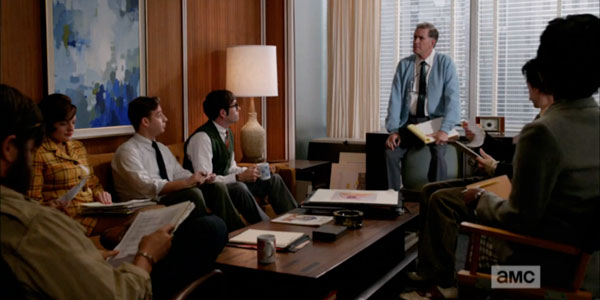 Some we know, some we vaguely recognise, and some we haven't met before. New Creative King is Lou Avery, who featured briefly in the last season, who apparently likes to shoot down ideas, and finds his work a bit too... hard-working. Other new faces include Lee (Don's plane-mate), Wayne Barnes, Professor Irwin Podolsky and Alan Silver, all of whom we can expect to meet again in the coming weeks.