Preacher Season 3: 3 Ups & 1 Down From 'The Tom/Brady'
When are you coming down to join us in hell?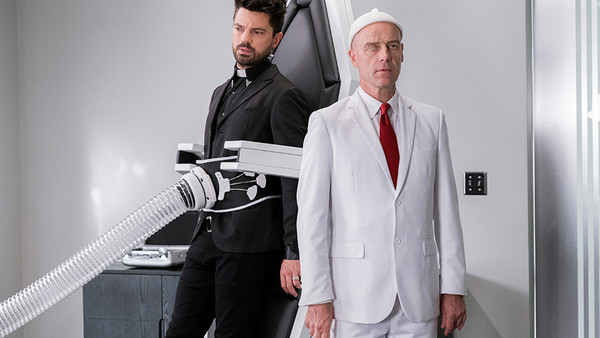 Contains spoilers from Preacher Season 3, Episode 8.

There's only two episodes of Preacher left to go this season, and things couldn't get any worse for Jesse Custer as we head towards the finale.
Following on from last week's episode, The Tom/Brady finds Jesse caught in a trap, as he's faced with the diabolical All Father. Hoping that Herr Starr than help him escape, the small-town preacher must evade the horrifying holy leader until he has the opportunity to kill him dead once and for all which, as you can imagine, proves rather difficult - especially when it becomes apparent that All Father wants to transfer Genesis to Humperdoo. Elsewhere, Cassidy starts to suspect that Eccarius isn't all that he seems, but trying to catch his boyfriend out proves the most difficult task.
The best storyline in this episode saw Featherstone and Tulip break into a highly-guarded facility to retrieve souls for the ailing Miss Mare L'Angelle, which gave viewers plenty to laugh at. We also saw the return of Preacher's wonderful iteration of Satan.
All in all, it was another strong episode for Preacher, and as we head nearer that finale, things are only going to continue heating up - pun very much intended. First, the positives...