Someone PLEASE Save Brooklyn Nine-Nine
Come on, Hulu.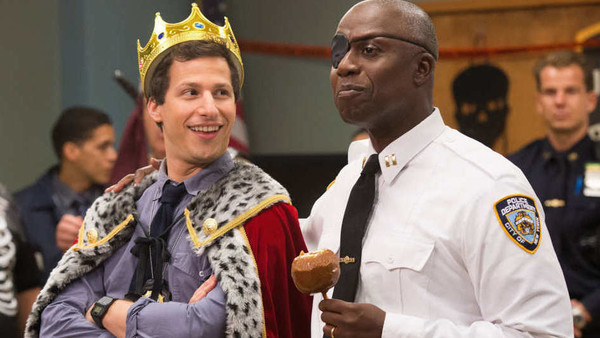 As feared, Fox has cancelled Brooklyn Nine-Nine after five seasons.
The networks are getting ready for their Upfronts presentations, when they'll be unveiling all of their new shows and schedules, which means that inevitably some series have to fall by the wayside, with a lot of them at risk.
Mostly this comes down to ratings, where Brooklyn performed particularly badly: with just 2.7m viewers weekly, and only 1.2 in the key 18-49 demographic in the +7 figures, placing it as one of the lowest-rated Fox shows. It's not a problem unique to Brooklyn Nine-Nine - Fox announced the cancellation of Last Man On Earth at the same time - but it is the show most worthy of being saved.
Most sitcoms in their fifth season are showing signs of starting to flag, after typically peaking around the 2-4 mark. Brooklyn Nine-Nine, on the other hand, was feeling like it was just hitting a new gear in terms of creativity.
Season 5, which saw the show hit its milestone 99th and 100th episodes, felt as fresh and funny as ever. The chemistry between the team, the best weapon in the series' considerable arsenal, was at an all-time high, while it also started to get more socially progressive and tackle bigger societal issues. The handling of Rosa's coming out as bisexual, for example, was handled with great sensitivty, and the series over the last couple of years has proved as adept at storylines around racial profiling and shootings as it is telling dumb jokes, making glorious sight gags, and having its characters goofing around.
There aren't many sitcoms on television as consistently good, diverse, warm, emotional, action-packed, and outright f**king hilarious as Brooklyn Nine-Nine. While the Season 5 finale, which as things stand will also serve as the series finale, will feature Jake and Amy's wedding, there are still plenty more stories to tell in TV's best workplace comedy. We need to see what Jake and Amy are like as a married couple, more of the Peralta and Boyle bromance, more of Terry's pecs, more of Rosa's putdowns and Gina's wisdom, Holt's demeanour, whatever the hell it is Hitchcock and Scully do. And above all else, all of the team helping each other out no matter the circumstances and the barbs that have come beforehand.
Co-creator Mike Schur's other iconic sitcoms, Parks and Rec and The Office, both ran for seven seasons (what do you mean The Office had nine seasons?!), and this deserves the same fate.
Luckily, it might just get it...
James Hunt
NCTJ-qualified journalist. Most definitely not a racing driver. Drink too much tea; eat too much peanut butter; watch too much TV. Sadly only the latter paying off so far. A mix of wise-old man in a young man's body with a child-like wonder about him and a great otherworldly sensibility.
See more from James