Someone PLEASE Save Brooklyn Nine-Nine
Who Might Save Brooklyn Nine-Nine?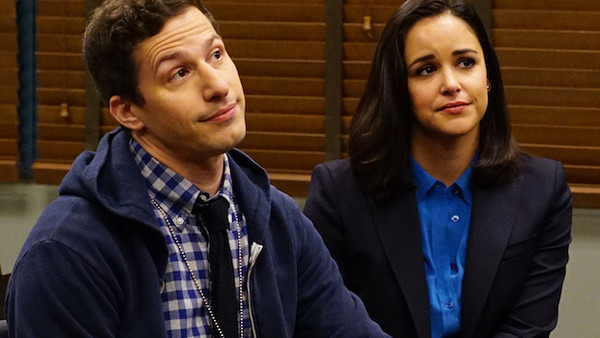 TV shows reguarly get cancelled and their fanbases are upset, but it's rare we see the outpouring of emotion that Brooklyn Nine-Nine has received. Fans, critics, stars, writers - it seemed like everyone was unanimous in tweeting about their love of the show and their devastation at its cancellation. Even the likes of Mark Hamill and Lin-Manuel Miranda weighed in, ironically (or just sadly) to more followers than 99 has viewers.
The show was the #1 trending topic, and this kind of response turns head, and The Hollywood Reporter are already suggesting that the show could be revived.
The most obvious home for the series is Hulu, who have the streaming rights to the show in the United States, and have worked closely with Universal TV, who own Brooklyn Nine-Nine, having saved the previously cancelled The Mindy Project.
NBC, too, could be a good fit for the series: all of Mike Schur's other sitcoms aired on the network, and Universal Television is the production arm of NBC, with both falling under the NBC Universal banner. Netflix, meanwhile, have revived comedies in the past, and could be willing to step in.
Whoever takes it will be getting a show with a devoted - if not huge - fanbase, with a revived interest in the show thanks to the cancellation. Not only that, but they're getting one of the most critically-acclaimed and best sitcoms anywhere on TV. It's surely a no-brainer, and a burn on Fox.
NINE-NINE!
Do you want Brooklyn Nine-Nine to be saved? Let us know down in the comments.
We need more writers about Brooklyn Nine-Nine! Get started below...
Create Content and Get Paid
---
James Hunt
NCTJ-qualified journalist. Most definitely not a racing driver. Drink too much tea; eat too much peanut butter; watch too much TV. Sadly only the latter paying off so far. A mix of wise-old man in a young man's body with a child-like wonder about him and a great otherworldly sensibility.
See more from James