Why The Simpsons Aren't Coming To Disney+ UK
Disney+ looked set to offer a way for fans to stream The Simpsons in the UK.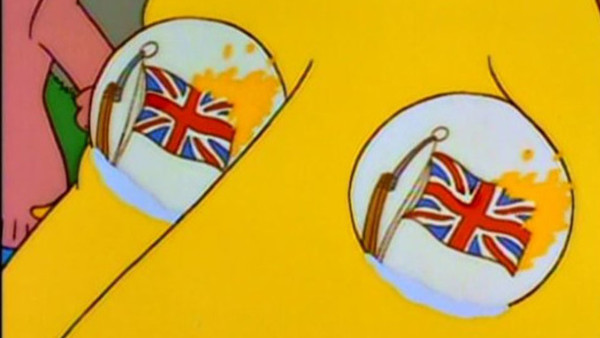 We're also getting a good idea of what we're not going to get.
As part of the European marketing campaign, the Disney+ UK twitter account shared a short video, which omits a specific animated doughnut that is included in other regional videos.
Don't just take my word for it, the UK version is below and you can find the Spanish version immediately after...
And here's the Spanish version for comparison...
Why is the iconic Simpsons doughnut missing? Are we simply not advertising junk food and instead choosing to think of the children channelling our inner Helen Lovejoy, or is there more to this?
UK Broadcasting Rights
In the good old US of A, the broadcasting rights for The Simpsons has always belonged to FOX, therefore the recent acquisition of all TV and Film assets from 21st Century Fox made it relatively easy for The Simpsons to find a home on Disney+. I say relatively because whilst Disney owns the studio responsible for production, it doesn't actually have the power to renew or cancel The Simpsons.
That right belongs solely to Fox Broadcasting Company because mergers are simple. But, nonetheless, Disney+ does have the current 30 Season run of The Simpsons available to watch.
Here in the UK, however, those rights have traditionally belonged to Sky and Channel 4, with Sky able to broadcast new episodes of the show as they premiere, and Channel 4 generally putting out older episodes. It looks as though that isn't going to change, either.
Back in December 2019, Sky purchased the rights to show Season 31 of The Simpsons, which has not previously aired. This puts paid to the rumours that Disney+ would be the only home for The Simpsons in the UK.
Whether or not there will be any back catalogue available to stream, or whether The Simpsons will eventually transition to Disney+ here remains to be seen, but as of launch, there'll be no easy way for fans to binge-watch the show.
Are you excited about the arrival of Disney+? What shows and films are you eager to watch? And how do you feel about the service not having The Simpsons available? Let us know in the comments below.
Create Content and Get Paid
---