Exclusive Interview: UFC Hall Of Famer Urijah Faber On Working With Kinektic & His Prior Business Ventures
WhatCulture's Darren Paltrowitz spoke with the UFC legend about MMA and business.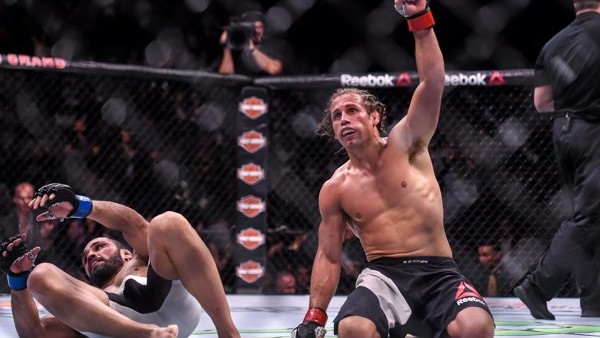 Although he is a 2017 inductee into the UFC Hall Of Fame, Urijah Faber is once again active as a UFC fighter. In fact, following last month's victory over Ricky Simon at UFC Fight Night 155, Faber became the first ever UFC Hall Of Famer to win a UFC bout after being inducted into such. He also won the Performance Of The Night award at UFC Fight Night 155.
Yet Urijah Faber also has a lot going on outside of the UFC Octagon. For starters, last month it was announced that Faber was a co-founder of the new Kinektic MMA promotion, which debuted on UFC FIGHT PASS on August 16th. Kinektic is a team-based, submission-based grappling promotion, and its team coaches include Chael Sonnen, Craig Jones, Anthony Smith and Chris Lytle.
I spoke with Faber by phone on the eve of the launch of Kinektic, and a few minutes from that chat are below. Faber can be followed on social media via @UrijahFaber, while more on Kinektic can be found online at www.ufcfightpass.com.
When did the idea for this promotion first come about?
Urijah Faber: To be honest, I came in with an old friend of mine Keith Veltre, who is a master promoter. He is really just a genius promoter and we have been working with the UFC and ESPN. He came up with this concept and he asked for me, as an expert in grappling, to come onboard. So I'm not sure when they came up first with the concept… I was happy to come on as an expert and be one of the partners on this thing.
Have you always aspired to be an announcer to be a personality outside of the octagon?
Urijah Faber: No, not necessarily. I mean, I've always enjoyed being part of the great events in whatever capacity. I've done a lot of commentary throughout the years and I've done a lot of TV stuff throughout the years, so it's a natural thing for me and I do enjoy getting to know guys and being a part on-camera.
It's beyond interesting about your career that you are arguably the only active UFC Hall of Famer that's an active fighter right now, and also an entrepreneur. So being an entrepreneur, what was your first venture or ability to launch a business in your career?
Urijah Faber: The very first business that I ever started was called TLC and it was "top of the line coaching." I was making next to nothing as a college wrestling coach. I made $7,000 a year for a job coaching at UC-Davis. So I started coaching kids and holding tournaments and holding seminars and in camps in order to make ends meet. So I started TLC, I learned how to do that… I opened a bank account and published the name in the newspaper and all that kind of stuff... I think it was 15 or 20 bucks to get the license. And that was my first step… Just basically to make ends meet.
My second venture was Alpha Male Clothing. I started doing that when I was coaching at UC-Davis. I started selling Alpha Male shirts to all the college kids… Both those were at a time when I was trying to start fighting, so it was a way for me to fund my passion of being a mixed martial artist.
Interview continued on next page...
Darren Paltrowitz
Darren Paltrowitz is a New York resident with over 20 years of entertainment industry experience. He began working around the music business as a teenager, interning for the manager of his then-favorite band Superdrag. In the years following, he has worked with a wide array of artists including OK Go, They Might Be Giants, Mike Viola, Tracy Bonham, Loudness, Rachael Yamagata, and Amanda Palmer. Darren's writing has appeared in dozens of outlets including the New York Daily News, Inquisitr, The Daily Meal, The Hype Magazine, All Music Guide, Guitar World, TheStreet.com, Format Magazine, Businessweek, The Improper, Chicago Tribune, the L.A. Times, and the Jewish Journal. Darren is also the host of the "Paltrocast With Darren Paltrowitz" podcast, as co-produced with PureGrainAudio. He is also the author of two published books, including 2018's "Pocket Change: Your Happy Money" (Book Web Publishing) and 2019's "Good Advice From Professional Wrestling" (6623 Press).
See more from Darren