10 Best Monster Henchman In Wrestling
9. Braun Strowman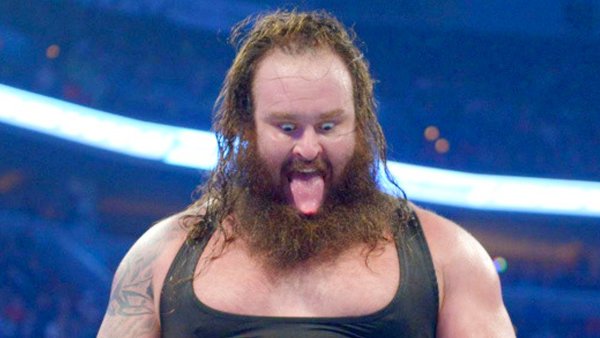 In 2015, Braun Strowman was introduced as part of the Wyatt Family and quickly established himself as the dominant monster of the group. The 6'8" and nearly 400 lbs goliath fit in well with the monstrous group which already had the pairing of Erick Rowan and Luke Harper to back-up Bray Wyatt.
The role did help Strowman establish on the main roster, but he was not in the group long after getting drafted away from the family in 2016. He soon became the biggest monster in WWE after a number of entertaining squash matches, including one which gave James Ellsworth a short-lived run in the company.
After a great feud with Roman Reigns, the Monster Among Men seemed poised to become a World Champion. However, he ran into the brick wall of Brock Lesnar in his Universal Championship pursuits, which cooled off his monster aura substantially.
After finally winning the belt as a substitute for Roman Reigns at WrestleMania 36 against Goldberg, Strowman harkened back to his time as Bray Wyatt's henchman in his feud with 'The Fiend'. A woeful 'Wyatt Swamp Fight' embodied the feud, which spelled the end of Strowman's time as WWE's monster of choice, leading him to surprisingly leave the company in 2021.