10 Best Shane McMahon Matches Of All Time
Here comes the money matches.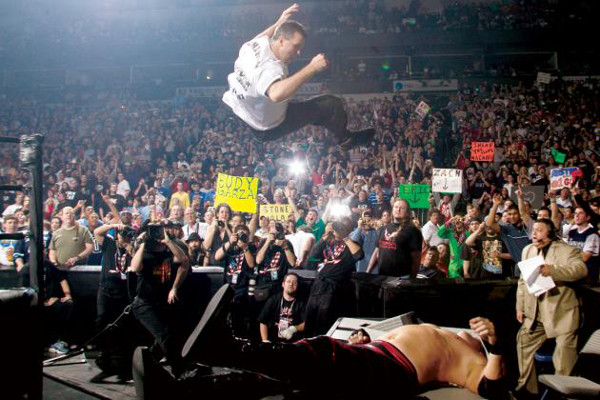 Last night on Monday Night RAW, Shane McMahon made his shocking return to WWE, standing up to his father in an attempt to curb the power-trip of the McMahon-Helmsley Empire. He revealed that he still controls a certain amount of the company, and that instead of selective pieces of pie, he wants the whole cake. Vince agreed to put it all on the line in a match, which will see Shane go up against The Undertaker inside Hell in a Cell at WrestleMania. Shane left the company early in 2010 to explore other business options, particularly fronting a new venture in China. In the six years he spent away from WWE there wasn't much in the way of rumours regarding a return, making his appearance last night and subsequent booking at WrestleMania all the more surprising. During the Attitude Era, Shane McMahon was an integral part of the product. This was just as true from an in-ring perspective as it was as an authority figure and character, and no highlights package from the era is complete without footage of some of the crazy bumps he took. Everyone who was a fan then remembers Shane falling from the Titantron, sailing off from the rop rope through the announce table or even being thrown through panes of glass. Indeed, Shane was a ballsy wrestler when called upon and, more often than not, delivered a decent match. Here are his ten best...
John Bills
Born in the middle of Wales in the middle of the 1980's, John can't quite remember when he started watching wrestling but he has a terrible feeling that Dino Bravo was involved. Now living in Prague, John spends most of his time trying to work out how Tomohiro Ishii still stands upright. His favourite wrestler of all time is Dean Malenko, but really it is Repo Man. He is the author of 'An Illustrated History of Slavic Misery', the best book about the Slavic people that you haven't yet read. You can get that and others from www.poshlostbooks.com.
See more from John