10 Best Stone Cold Steve Austin Matches Ever
Stone Cold could raise plenty of hell, not to mention the bar.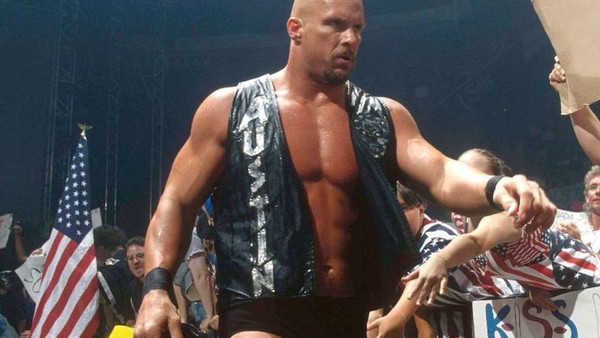 Who in 1991 would have ever guessed that a skinny, blonde-haired kid with form-fitting Zubaz shorts would one day be the one to reignite professional wrestling's popularity at a Hulkamania-like clip? Granted, Steve Austin had been drawing deserved praise for his keen instincts as an in-ring performer (particularly one with such a minimum of experience at the time), and he was touted as a future star.
Most wagering that would've predicted Austin's rise would max out at a Rick Rude or Ted Dibiase-like level. Nobody in the early-nineties, however, could've seen Austin as the anti-heroic signal for a new generation of fans to turn Monday night wrestling into absolute appointment television, while steering WWE into prosperity that hadn't been seen in years. Austin's reign as a globally-popular property continues even long into retirement, when his presence on Raw's 25th Anniversary show helped the weekly program reach a 3.0 TV rating for the first time in three years.
That rock star-like adulation for his cheerful malevolence has in many ways drowned out an undying truth: Austin was pretty damn great between those ropes. Doling out Stunners and double-fisting beers may have been his signature, but Stone Cold could back up the sizzle with a world of substance. And frankly, there were few who could do it better.
Here are, in one man's opinion, the ten greatest matches featuring Stone Cold Steve Austin.
(Just a quick note that this series of lists (which will cover various wrestling icons) will feature singles, tag team, and even triple-threat matches, but no matches with a greater number of participants (like Royal Rumbles and Survivor Series bouts).)
Justin Henry
Justin has been a wrestling fan since 1989, and has been writing about it since 2009. Since 2014, Justin has been a features writer and interviewer for Fighting Spirit Magazine. Justin also writes for History of Wrestling, and is a contributing author to James Dixon's Titan series.
See more from Justin