10 Best Ways Wrestlers Responded To Crowd Signs
9. John Cena - If Cena Wins We Riot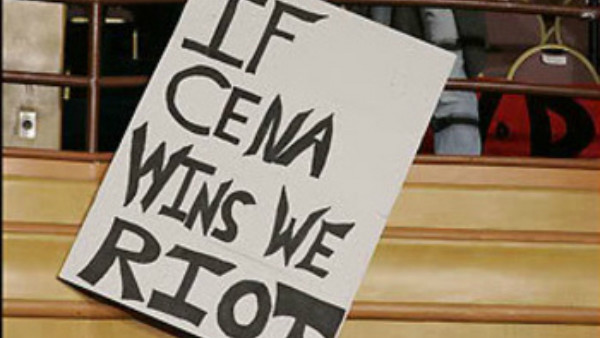 One of the most famous signs in wrestling history, "IF CENA WINS WE RIOT" was the perfect way to capture the spirit and atmosphere of the main event of ECW One Night Stand 2006.
Emanating from the iconic Hammerstein Ballroom, that One Night Stand PPV was memorably headlined by Rob Van Dam challenging for John Cena's WWE Champion. With Van Dam the most popular star in the history of ECW, and Cena the encapsulation of what a WWE Poster Boy should be, the stage was set for something electric as these two did battle.
To say Big Match John was hated on that night would be a ridiculously huge understatement. Forget your 50/50 crowd response of "Let's Go, Cena!", "Cena Sucks!"; the Hammerstein Ballroom went to town on Cena with intense, persistent boos, continuous "F**k You, Cena!" chants and a sea of middle fingers directed towards the WWE Champion.
How did Cena react to all of this? He heard the boos, he studied the room, he saw the signs, and he absolutely lapped it up and played right into the audience's hands as everything they accused him of being.
If may not have solely been the "IF CENA WINS WE RIOT" sign that influenced John Cena at One Night Stand, but it for sure warrants a mention here.