10 Best Wrestling Matches Of 2017
9. Tyler Bate Vs. Pete Dunne - NXT TakeOver: Chicago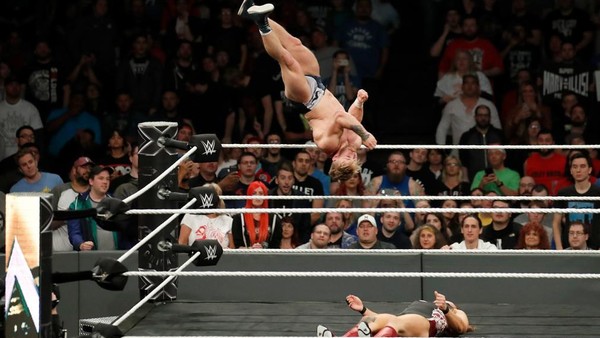 This incredible UK Title match really could not have been executed any better.
Performing in front of a vast arena crowd, about half of which got in on the ground floor, this was structured to get the entire building shaking by the final three count. Bate and Dunne performed a beautiful display of technicality in the opening minutes, framed as a sort of transatlantic courtship ritual for those unfamiliar with their state-of-the-art update on the British style. Dunne, outclassed and humiliated, suckered Bate into the outside to escalate this match into a fight.
Strength vs. viciousness, showmanship vs. sociopathy, the pure of heart vs. the cold of blood: this was a match of meshing contrasts wrestled by two men with stunning chemistry. The sight of Dunne reversing a standing shooting star press into a choke, and wasting no motion as he hammered Bate on the top of the head with wincing elbows, fused the gritty integrity of British chain wrestling with the sort of spectacular agility that cemented the fashionable cult appeal of the "graps" scene.
It's easy enough to encourage an American crowd to chant "USA!" at a wrestling show. Even Jinder Mahal managed it in patches throughout the dismal summer months. The sound of thousands and thousands of Chicagoans screaming "UK! UK! UK!" was the commendation for the sheer awesomeness that was this match.
"Fight forever" was another chant bestowed upon the two Brits. It was just as well they didn't take it literally; at 15:28, this didn't need a self-consciously "epic" length - nor traditional "big match" stalling and build - to put it over as a big match.