10 Best Wrestling Matches Of 2019
9. The Young Bucks Vs. The Lucha Bros. - AEW All Out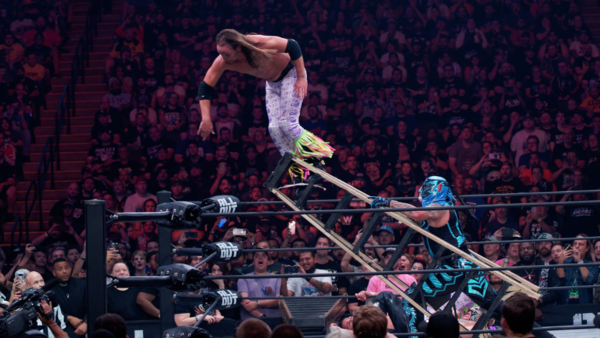 The Young Bucks have long since rid themselves of the spot monkey stigma - among the reasonably minded/people who have actually watched their matches - but it prevails because they are so awesome at devising insane spots.
This was a spot-fest only in that it featured a great number of outrageous spots. Pentagon drilled Matt Jackson with a Canadian Destroyer from the top of a ladder and through a table, for f*ck's sake. That spot was beyond outrageous, but it was also inspired and committed. The approach to critiquing ladder matches and stunts is often misplaced. To some, this mode of storytelling is a hollow, easy thrill.
But how come nobody thought to do that spot before 2019?
That's the genius of the match: you thought you had seen it all, but the Young Bucks and the Lucha Brothers executed a batsh*t crazy stunt you never thought possible.
But it also wasn't a spot-fest. The two teams had traded wins across Double Or Nothing and in AAA. This match was built very effectively, and the four insane and insanely talented men used that platform to launch the f*ck off it, crafting in the process an exhilarating daredevil adrenaline rush.
The no fear/no balls build informed a sprint to the death and the kill-shot, and the premise behind the match - the inability to separate both teams - informed several unique subversions on tandem tag spots. The stunts, in which opponents Matt Jackson and Fénix cast glances towards the other, working in deranged harmony, furthered that story in an innovative way.
But how come nobody thought to do that before 2019?
Style, substance, spots, psychology: this was one of the most violent and rich ladder matches of all time.