10 Best Wrestling Matches Of 2022 (So Far)
8. Jon Moxley Vs. Biff Busick - GCW Bloodsport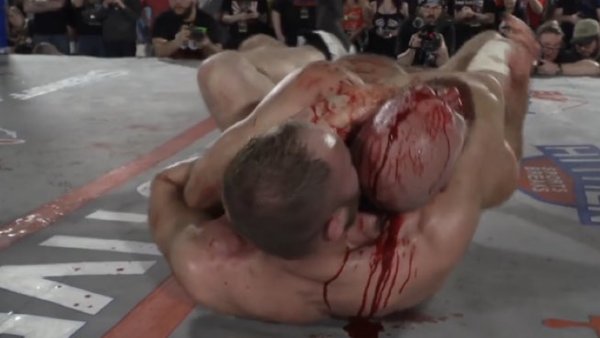 Tony Khan is fond of booking name acts on an ad-hoc basis - the likes of Johnny Elite for example have an in-built credibility to get a contracted act over - and Biff Busick absolutely should appear on Dynamite at some point. He's so great at making his opponents look like killers. Really, Khan could sign him to a long-term deal, have him lose every other week and get a whole host of acts over - imagine Biff Vs. Miro, Jesus Christ! - and then set him on an underdog run.
Known as the preeminent more-heart-than-sense meathead of the indie scene, Biff is actually far more intelligent than that as an in-ring architect. He sets submission traps, and when they fail him, he uses every reserve of grit to fight 'til the death by the finish. He doesn't just lunge into strikes with bulging eyes; he only does this, to electrifying effect, when he's been outmatched technically.
This was an unreal war, an ungodly intense bloodbath, that fused grappling intricacy with brawling that felt ultra compelling and even frightening in its worked danger.
In a phenomenal comeback spot, Biff used the unique Bloodsport environment to get his character over in another illustration of his intelligence. With no ropes, he was able to dive back onto the canvas and unload a wicked chop to Mox's chest at the exact same time. Mox however absolutely killed him at the finish.
Biff was so unreal at working with heart that it felt like Mox had to.