10 Best WWE Singles Pairings To Ever Win Tag Team Gold
2. Triple H And Stone Cold Steve Austin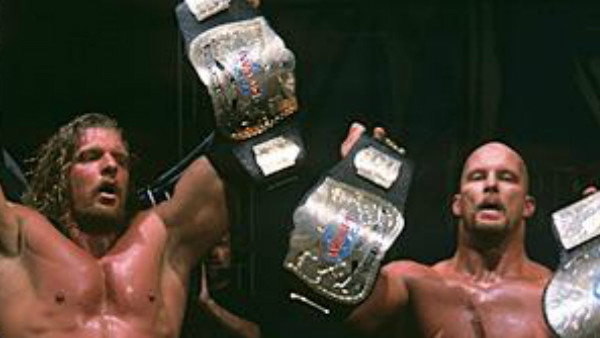 This pairing gets a lot of slack for succeeding what many consider to be one of WWE's most unwise booking decisions in history.
At WrestleMania X-Seven, Stone Cold Steve Austin betrayed everything he seemingly stood for, shaking Vince McMahon's hand and becoming a stooge for the company he had spent his career battling. To add to the craziness, the villainous Triple H stormed down to the ring the following night looking as though he would turn babyface, only to side with Austin in what would become known as The Two-Man Power Trip.
The top babyface and top heel of the Attitude Era were now bound in some demonic partnership, and upper-card dominance was not good enough for the two ego-maniacs. They drew the ire of The Brothers of Destruction, escalating into a winner-takes-all match for the World, Intercontinental and Tag Titles.
Austin and Triple H won, their reign ending in bittersweet circumstances: a showdown with Jericho and Benoit that is one of Raw's greatest ever main events, though in the process Triple H would suffer a horrific knee injury. Though it was brief, it's a rare sight to see two bonafide megastars lock down the entire company, including the tag team division.