10 Biggest Holy Sh*t Moments From WWE WrestleMania 37 Night 2
Riddle mocks Goldberg; Alexa Bliss seemingly ends The 'Fiend' at WrestleMania 37.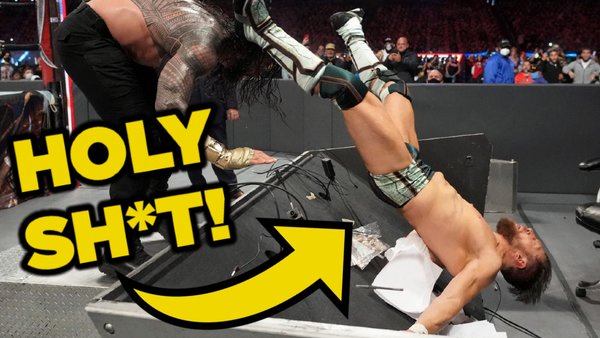 WWE didn't have to do another J.O.B for Tampa's weather on Sunday night. The skies were clear, Hulk Hogan and Titus O'Neil were dressed as pirates to host, the company had another seven-match card to plough through and everything ran smoothly.
That meant fans didn't have to cower beneath ponchos as they yelled "holy sh*t!".
Night one of WrestleMania 37 had Mandy Rose slipping on the stage, Shane McMahon bumping off the top of steel cages, Braun Strowman tearing through cages, Drew McIntyre paying homage to The Undertaker, Bad Bunny hitting Canadian Destroyers and more. Night two had a lot to live up to then.
WWE kept back some good stuff for Sunday. One ex-NXT star got some redemption, and another got bloodied up by Sheamus - Riddle also appeared to mock Bill Goldberg during his United States Title bout. Other big moments included massive bumps off the ring apron, a powerbomb-into-spear combo that had to be seen to be believed and what could be the end of a polarising character.
Here are all the moments that made fans leap onto Twitter and .GIF the crap out of what they'd just witnessed...
10. Rhea Ripley's Redemption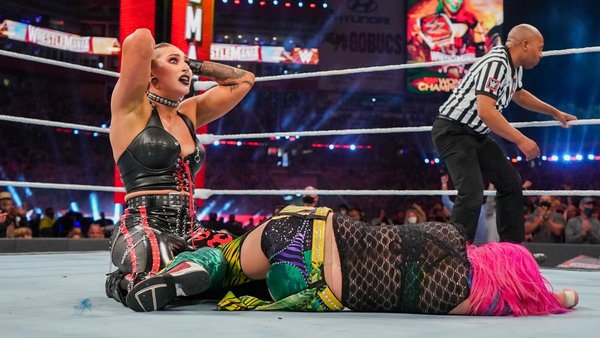 WrestleMania 36 wasn't Rhea Ripley's favourite pay-per-view. 12 months ago, the NXT star got swept aside by Charlotte Flair and didn't seem to have a future on the brand. One year later, WWE made it up to Ripley by booking her to beat Asuka at 'Mania 37.
Fans cheered, Asuka did the honours gracefully and Rhea looked overwhelmed.
The tears that started to fill her eyes during those post-match celebrations were clearly genuine. This was redemption for Ripley, and it's the kind of night that she'll look back on in years to come as the launching point for her career on Raw - Rhea is Monday night's new female linchpin, and that has to feel good.
Ripley eradicated all the apathy of 2020 in an instant here. Fans in attendance did their bit too by shouting their approval for WWE's decision. It's a popular one. Now, somebody get Asuka a statue, because she's been the glue holding Raw's division together.