10 Craziest Joe Rogan Post-MMA Fight Moments
Once Rogan steps into the Octagon, all bets are off.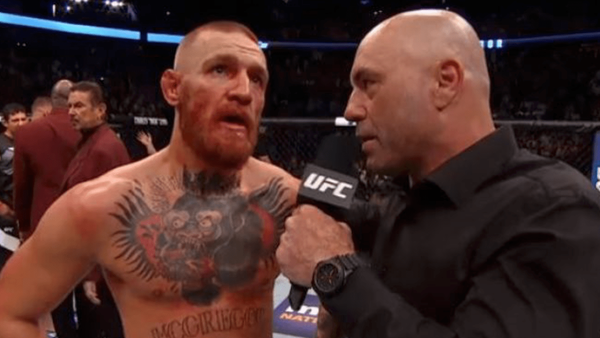 In the world of the UFC, just about anything can happen when two fighters step into the Octagon.
Ultimate underdogs overcoming the odds, seemingly unbeatable icons tasting defeat and a consistent supply of shocking knockouts have all made the company the must-see entity that it is today.
However, that unpredictable chaos often doesn't end once the winner has their name called out by Bruce Buffer and their hand raised by whichever ref is calling the fight that night.
As soon as the long time voice of the UFC Joe Rogan walks into that cage, that's when the second show officially begins and fighters have often used their post-fight interview with the podcast sensation as a chance to make their real feelings known, call out a rival or simply kick up a fuss.
We've had gruesome injuries discovered, full blown debates and just plain old love shown between Joe and the company's top stars over the years. But, Rogan has tackled each and every post-fight situation with the same charismatic, no bullsh*t charm which has made him one of the most popular figures in broadcasting today.
Like a fine wine, Joe Rogan's post-fight breakdowns in the Octagon have only gotten better (and crazier) with age. So, we'll no doubt be adding to this list as the years go by.
10. Derrick Lewis At UFC 229 - 'My Balls Was Hot'
Loveable Heavyweight Derrick Lewis very quickly became the talk of the town as soon as Joe Rogan stepped into the Octagon after his winning performance at UFC 229.
Lewis had just overcome Alexander Volkov by brutally pummelling his rival into the mat in the closing stages of the third and final round. However, in the wake of his win he decided to do something a little unexpected.
'The Black Beast' proceeded to strip off his shorts as soon as the fight was over. Rogan was quick to question why the victor had chosen to do this in the middle of the cage and not backstage.
Without missing a beat, Lewis openly admitted that he took his pants off because his 'balls was hot'. Any other personality would have probably burst out laughing there and then, but Rogan (ever the professional) remarkably kept his composure and simply replied with, 'I understand'. This actually made the entire exchange even more oddly hilarious.
Lewis has proven time and time again that he can be one of the most unpredictable strikers in the Heavyweight division, but on this occasion his unpredictability extended to this now-legendary post-fight interview with Rogan.