10 Fascinating WWE Royal Rumble 2014 Facts
No crowd had ever been less happy to see Rey Mysterio.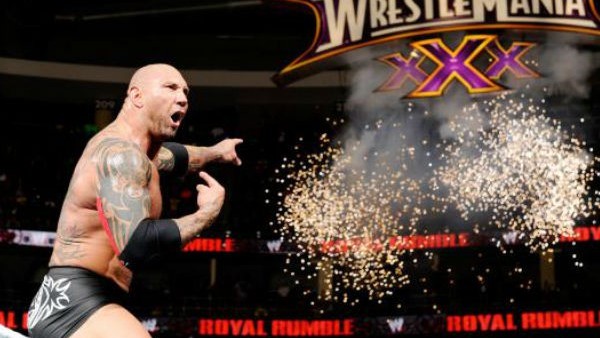 "I'm going to WrestleMania; deal with it." Those were the words attributed to Dave Batista the night of the 2014 Royal Rumble, aimed at audience members who didn't get the ending that they wanted. Batista's return after four years was to have, per WWE's plans, set up a WWE Championship match for WrestleMania 30 pitting "Big Dave" against Randy Orton.
Those plans didn't figure in Daniel Bryan, who had cemented himself over the previous six months as the most beloved and popular star in the promotion. The wild adulation for the unassuming, hard-working Bryan failed to cease, even after WWE took him out of the World title scene in October 2013. When Bryan turned on the Wyatt Family after brief membership with the group, the crowd went insane. And when Bryan failed to turn up in the 2014 Rumble match, the crowd was outraged.
Nobody will ever forget the wholesale rejection of Batista as returning conqueror, as well as of John Cena vs. Randy Orton, Part Seven Jillion. The 2014 Royal Rumble was functionally WWE's answer to WCW's Great American Bash 1991, with Bryan playing the role of absent Ric Flair.
The 2014 Royal Rumble, from a technical standpoint, probably isn't even in the 100 worst pay-per-views that WWE has produced. But none of the in-ring quality matters when the fans feel that their tastes and wants have fallen on willingly-deaf ears.
Here are ten facts about the 2014 Royal Rumble you may not have known.
10. Billy Gunn Won His Eleventh Tag Team Championship
The Rumble pre-show was odd placement for a tag team match that had notable implications. The New Age Outlaws, parlaying a nostalgic return into a short term gig, defeated Cody Rhodes and Goldust in the event's Kickoff match, capturing the Tag Team belts in the process.
With the win, Billy Gunn notched his eleventh Tag Team title under the WWE header, and his sixth with Road Dogg. Previously, he'd won three with kayfabe brother Bart Gunn, and two with Chuck Palumbo.
The win also made Gunn one of only three men to have WWE Tag Team title reigns that totaled into the double digits. Edge has the most of all time with 14, while Gunn would tie eventual WrestleMania 30 tag team partner Kane at eleven.