10 Fascinating WWE SummerSlam 2002 Facts
9. Kurt Angle Insisted On Adapting To Rey Mysterio's Style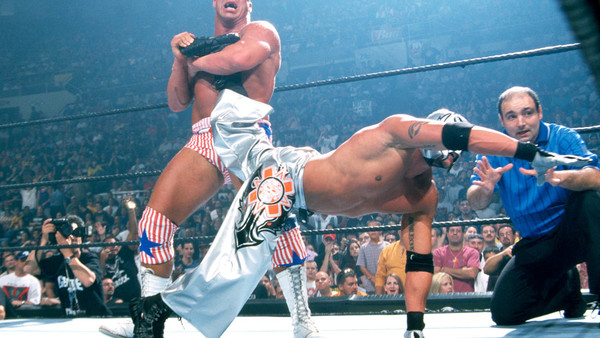 File this under, "And that's why Kurt Angle is the wrestling machine that he is." Rey Mysterio had made his televised WWE debut on the SmackDown brand in July 2002, and quickly established that he could still deliver performances akin to his mid-nineties show-stealers. He would have some of his old WCW contemporaries to work with on SmackDown, including Chris Benoit and Los Guerreros, world-class performers that he'd delivered alongside before.
As for Angle, whom Mysterio would be paired with at SummerSlam, it looked to be an interesting dynamic: a WWE-trained star vs. the most gifted luchador ever. Mysterio had concerns that their styles would not blend, but Angle was ready for anything Mysterio had at his disposal.
In a 2017 interview with The Ringer, Mysterio said of Angle, "He told me that he literally wanted me to pull out my whole arsenal and was willing to take every move to make me look good." The two produced an excellent opening match, and Angle forever earned Mysterio's respect for his open-mindedness.