10 Forgotten Final Matches Of WWE Legends
9. Jim Ross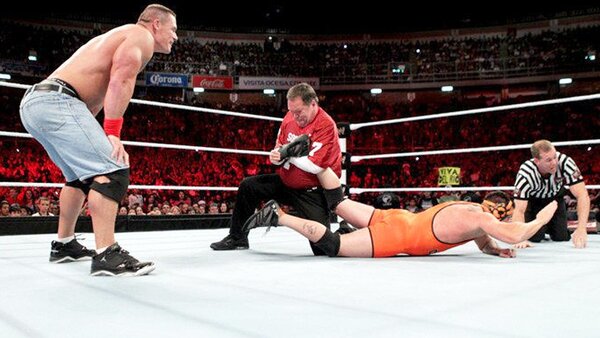 Raw on Oct 15th 2011, teaming with John Cena against Alberto Del Rio & Michael Cole
Despite not being a wrestler, good old Good Ol' JR had nine matches in his WWE career. Bah gawd!
His record is one of the best in the business, winning 50% of his matches from his debut in 1999. He headlined an episode of Raw in front of 33,375 fans at the Georgia Dome, pinned Triple H just after his peak reign of terror period, and even defeated the reigning WWE Champion (more on that one in a moment) despite being a commentator first.
Often the butt of jokes that only Vince McMahon enjoyed, it's heartwarming to see that he was able to experience unforgettable moments of in-ring action over such a storied career. All things must come to an end and it's fair to assume that every time Jim Ross stepped into the ring he didn't know if it'd be the last time or not.
His final match ended up happening in Mexico City on October 15, 2011. With John Laurinaitis firing JR earlier in the month, John Cena decided to bring him back to be his tag-team partner against reigning WWE Champion Alberto Del Rio and unbearable heel Michael Cole.
Ross started and finished the match, where he made Michael Cole tap out to the Ankle Lock after Del Rio had bolted. This put JR one up over the WWE Champion in his last ever match. What a way to go for somebody that wasn't even a wrestler.