10 Funniest Backstage Revelations From Wrestling Podcasts
The Voices In Your Head(phones)
Long before Stone Cold Steve Austin, Jim Ross, Taz, Bruce Prichard, Edge & Christian, Eric Bischoff, Lance Storm, Don Callis, Ryback, Tony Schiavone, Chris Jericho, Jim Cornette and many many more hopped aboard the wrestling podcasting bandwagon, there was Colt Cabana.
Spotting a gap in the market before it even really became one, Cabana set out to talk to friends and acquaintances from the wrestling industry for the entertainment of...his friends and acquaintances from the wrestling industry, as well as the niche audience he'd gathered from beloved spells in Ring Of Honor and a murky trek through WWE's woeful mid-2000s developmental system.
He gradually became as well known for his 'Art Of Wrestling' interview-come-promotional vehicle as he did his independent career. Affable, amusing and amenable to whatever story his guest wanted to tell, Colt built an enormous audience that increased further when he invited best mate CM Punk on to vent his spleen ten months removed from an acrimonious WWE departure.
The resultant lawsuit that followed Punk's spilt milk on the show highlighted how powerful the medium had become. Millions had tuned in, as they did every week to various shows from the above present and former stars that had piggy-backed 'AOW's success.
Replacing the shoot interview as the go-to repository for wrestling gossip, podcasts are now entrenched the prime location for bizarre anecdotes, cancelled plans and best of all, hilarious (and hilariously tall) tales. From the horse's a*se to the horse's mouth, here are some of the most side-splitting.
10. Show-nuts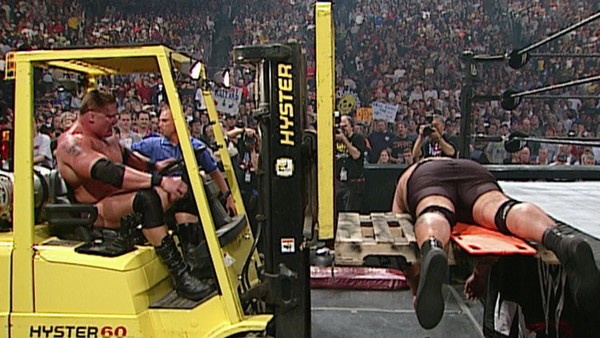 A belter of a yarn spun by Bruce Prichard on his 'Something To Wrestle' podcast, Brock Lesnar's brazen mockery of The Big Show's failure to diet was laid out in detail by the former WWE official.
According to Prichard, Big Show was attempting to lose weight yet again during his WWE Title feud with 'The Beast', but had secretly been using staffer Harvey Wippleman to deliver 'dozens' doughnuts to his door at every show.
On this particular occasion, he was stopped in his tracks by the gargantuan Lesnar, who knowingly asked where the Krispy Kreme treats were headed. The fearful Wippleman gave away the recipient, resulting in an incredulous Lesnar taking a huge bite out of every single doughnut.
Harvey's duties weren't over. Underscoring his mouth-watering message, Brock ordered the former manager to "take them to him now and tell him who did it".