10 Greatest Hits Of WWE Hall Of Famer Jeff Jarrett
9. King Of Sports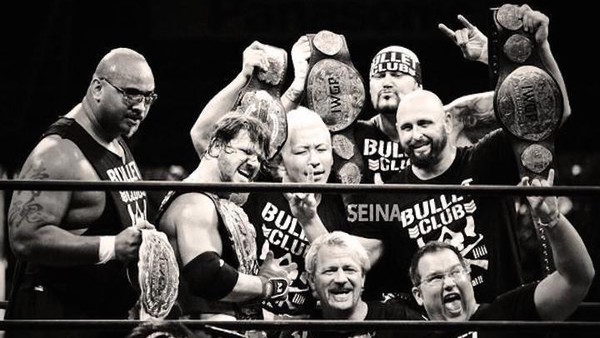 "It took some serious balls on Jeff Jarrett to..." could open every paragraph in the induction speech of whomever gets the nod to usher 'Double J' into WWE's Hall of Fame, but his New Japan/Global Force Wrestling co-promotion in 2014 has only looked more shrewd as the years have passed.
By that point the coolest wrestling company in the entire world, NJPW was the home to the best and most relevant performers in the game in 2014. And, somehow, Jeff Jarrett.
'The King Of The Mountain' and Global Force Wrestling Chief turned out for a 10 August show to formally announce a temporary talent share between his burgeoning group and the Japanese powerhouse, before revealing his heelish allegiance to wrestling's hottest faction at the end of the broadcast.
His tenure with the crew was short yet - in typical Jarrett fashion - obnoxiously brilliant. After brazenly gobbling up the Club's branding during his six month tenure, Jarrett was kicked out after a Wrestle Kingdom 9 miscommunication with Bad Luck Fale and Yujiro Takahashi. After heavily involving himself in an IWGP Title match between AJ Styles and Hiroshi Tanahashi just months earlier, an appearance at the Tokyo Dome was a perversely satisfying way to depart.