10 Greatest Hits Of WWE Hall Of Famer Jeff Jarrett
8. Big In Japan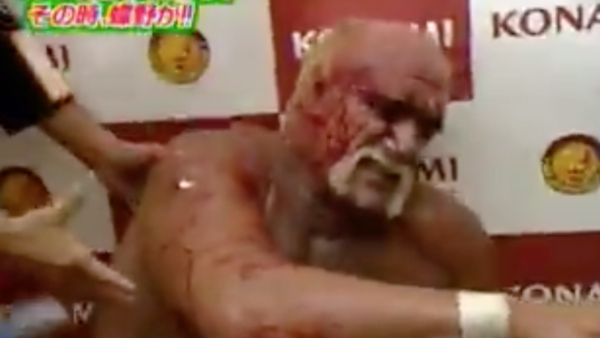 Hulk Hogan is covered in blood. Jeff Jarrett's ice white trouser/t-shirt combo has been stained with the spattered claret of the biggest star in the history of of the industry. Of course it was because of a guitar shot to the head.
Bursting in on a NJPW press conference following 'The Hulkster's 2003 return match against Masa Chono, Jeff Jarrett hammered Hogan following his remarks to the media about 'unfinished business' loosely alluding to their WCW past.
The uncharacteristically aggressive sh*tkicking was designed to build to a match between the pair at the first ever TNA pay-per-view Bound For Glory. In one of the first examples of the Orlando outfit dropping an almighty b*llock, the show never even took place.
Hogan's still-tempestuous relationship with consultant Vince Russo and nagging injuries prohibited any further involvement with the group before he'd even happened upon the 'Asylum' or 'Impact Zone', and the Bound For Glory branding wouldn't be recycled until the company were deep into their monthly supershow schedule in 2005. A cross-brand dream main event disappeared from view - Jarrett surrendered the NWA Heavyweight Title to Rhino in just five minutes when the card finally came around.