10 Greatest Special Guest Referee Performances In WWE
Is there anything the Heart Break Kid can't do?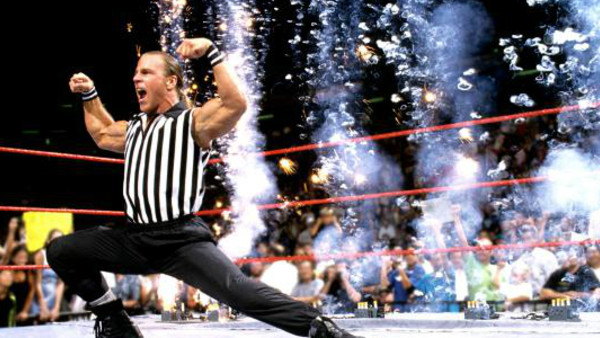 What makes a great guest referee?
Ideally, the perfect special ref will be someone who either has a history with the competitors or adds a sprinkle of celebrity stardust to proceedings. They should add to the overall story being told without taking the spotlight away from the match. After all, a special referee is usually only drafted in for a big match.
To be truly effective, they have to play the officiate role for the bulk of the contest, mostly letting the wrestlers in the match go at it without too much interference. When the time is right, though, the best special referees will know how and when to get involved, to either a huge pop or a torrent of boos.
Unsurprisingly to anyone who was watching back in the late 90s and early 2000s, one name pops up here even more than it does on a list of greatest matches; despite - or maybe because of - those spectacular shorts.
If you know, you know. If you don't know, you're about to...
10. Triple H, SummerSlam 2013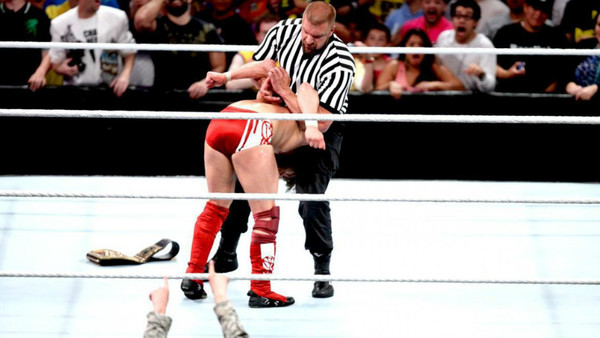 Oh, Hunter, you dastardly man. No doubt taking inspiration from his old running buddy (we'll hear plenty about him later), Triple H donned the black and white stripes to witness Daniel Bryan's coronation as WWE Champion… before taking that explosion of emotion, throwing it in a urinal somewhere in the Staples Centre, and, well you know.
Going into the match, Hunter was actually opposed to the 'B+ player' angle Vince McMahon was forcing down our throats. Taking on officiating duties for Bryan's challenge of John Cena, everybody expected the classic Hunter heel turn during the match, which made the outpour of joy when one Running Knee put away the face of the company even sweeter.
Then came the twist. Of course, looking back on the run-up to WrestleMania 30, it was the perfect ploy to bait us in with the underdog victory we all crave, before Mr Methodical sauntered to the ring, Money In The Bank briefcase in hand. Bryan barely had the chance to raise the belt above his head before The Game reverted to course, helping out his old Evolution bud. Heel Triple H is the best Triple H, to be fair.