10 Horrifying Wrestling Injuries Captured On Camera
Ring Sting.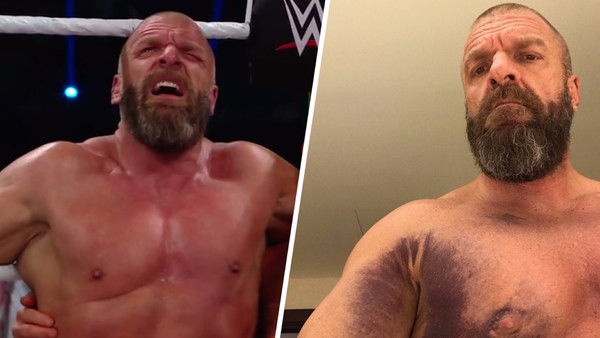 There was no hiding place.
WWE had made their bed inside Riyadh's King Saud University Stadium and Triple H was being forced to lie in it. But it wasn't the world's negative glare causing the company's kayfabe Chief Operating Officer and legitimate Executive Vice President of Talent, Live Events and Creative to wince and writhe in pain, nor was it some masterful selling of the limp and listless attacks by The Undertaker and Kane.
As in 2001 and 2007, Hunter was again gutting his way through a contest having suffered a significant muscle tear away from his significant frame.
The pectoral injury that took place relatively early in the ponderous 27-minute Crown Jewel main event temporarily floored 'The Game', and will remove him from any physicality for the next few months. Though it hopefully won't require the extensive rehab his aforementioned quadricep injuries required, the grisly image he posted online of a body turned blackened and bruised was a stark reminder of the real hazards WWE so often speak of. And for Hunter, it had yet again happened with the world watching.
An obvious disclaimer perhaps, but the moments in this list are strictly for ghoulish pleasure. Wrestling is an endeavour in which a fan should never see a performer get hurt, yet particularly gruesome injuries are predictably difficult to look away from.
Away from the controversial Saudi supershow, 2018 has occasionally presented professional wrestling at its most beautiful. These are bloody and brutal snatches of the industry's ugliest side.
10. Joey Mercury's Face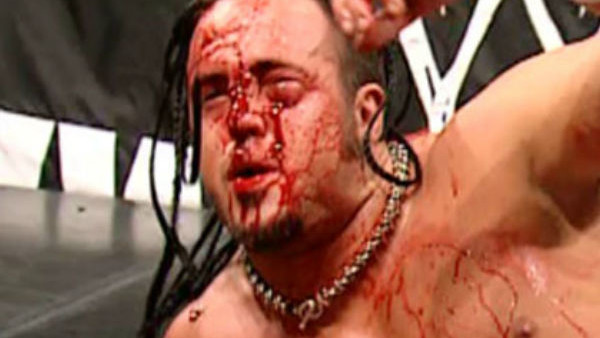 The above visual alone is enough to realise just how unlucky Joey Mercury was to find his fizzog p*ssing blood at the mid-point of a filler pay-per-view. But the MNM star leaving half of his face stuck to the side of a ladder took all sorts of odd circumstances conspiring beyond Jeff Hardy's terrifying teeter-totter spot.
Having only just been welcomed back into the fold, Mercury was the toast of the company alongside partner Johnny Nitro after MNM and The Hardy Boyz worked beyond all reasonable expectations to try and save the disastrous December To Dismember show with a creditable opener. Keen to placate their loyalest supporters ordering Armageddon two weeks later, the company airlifted the pairs into Brian Kendrick and Paul London's Tag Team Title defence against David Taylor and William Regal. And they brought a ladder with them.
The contest was comfortably the best match of the night and - as with the ECW catastrophe - went some way to repairing relations with a ripped-off audience. The cost to Mercury went beyond the horrendous facial damage. It reinitiated a long battle he was still losing with pain medication, resulting in him eventually losing his job yet again.