10 HUGE AEW X NJPW Forbidden Door 2022 Predictions You Need To Know
AEW & NJPW make history, but which matches, moments or surprise appearances will make the headlines?
After years of fantasy booking and just as long on managing the politics and admin of such a thing, AEW x NJPW Forbidden Door is here.
But there's a ghost at the feast.
It's not the ropey booking that has consumed most of AEW's post-Revolution run, nor the lack of certain enormous names that one could have reasonably expected to be part of this card. It's not even Blood & Guts, a Dynamite special wedged awkwardly close to the show and requiring simultaneous build at the expense of a focussed run to this historic event. It's not any of these things, troubling as they are.
It's Maxwell Jacob Friedman.
MJF hasn't appeared on AEW television since calling Tony Khan "a f*cking mark", amidst stories that may or may not have been a work suggesting that he wanted more money from the company. The promo itself appeared to confirm the story as very much just a wrestling story, and the company have kept him off television since. In that very same speech though, he spoke (again) of his distaste and disinterest in New Japan Pro Wrestling. If ever there was a show for him to return on - and spoil - it would be this one.
And he's not the only one that could make an unannounced appearance...
10. Le Sex Gods & Minoru Suzuki Vs. Eddie Kingston, Wheeler Yuta & Shota Umino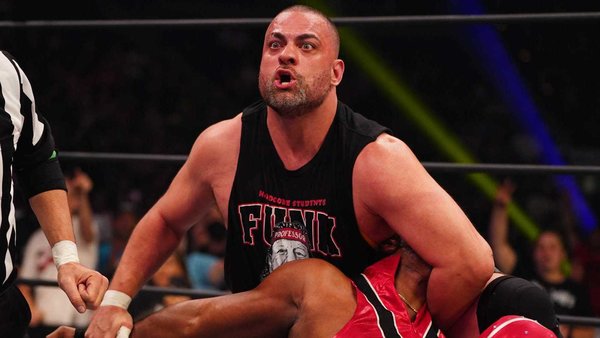 What may scan as a card-filler on paper could actually be one of the more fun outings on the night.
One of Tony Khan's best TV tricks during AEW's glorious return to full venues in 2021 was to put CM Punk and Adam Cole's entrance themes next to one another in the mimicking of getting back-to-back bangers at a gig. In Kaza Ni Nare and Judas, the heels' entrance will generate identical buzz. As will a rampaging Eddie Kingston happily battering anybody that moves.
It'll be nice to see Sammy Guevara back in his most natural role as Jericho's sh*t-eating-grin sidekick, and the pair of them will presumably annoy Suzuki enough to facilitate a babyface victory on the night.
Speaking of the good guys, Umino and Wheeler teaming up is pretty cool, and not just because Yuta rhymes with SHOOTA. As apprentices of Jon Moxley past and present, their motivation will be to kick the f*cking sh*t out of 'The Wizard' specifically ahead of Blood & Guts the following Wednesday. Underestimate the magic of this one at your peril.
Winners - Eddie Kingston, Wheeler Yuta & Shota Umino