10 Incredible Transformations From Jobbers To WWE Champions
8. JBL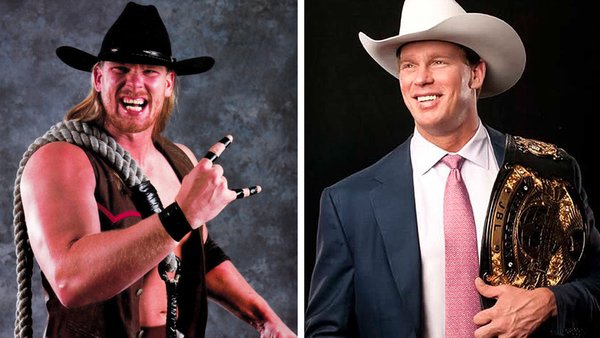 The personal choice of Eddie Guerrero to take over as WWE Champion when 'Latino Heat' couldn't quite stand the temperature at the top of SmackDown in 2004, Bradshaw's transformation into JBL was too much for many longstanding fans to handle.
The leap seemed too wide. He'd been a bar brawler in a dated APA act literally weeks before lifting the company's richest prize, and from a man who had rapidly become a sentimental favourite to an increasingly smaller version of the masses. WrestleMania XX's now-devastating closing shot of Guerrero and Chris Benoit was supposed to the breaking of a new dawn on a night where "It All Begins Again" for WWE. Rocket-strapping McMahon's favourite Wrestler's Court steward out of nowhere felt wildly disconnected from the concept.
The APA was over in 2000 when everything was, but Layfield's pre-Attitude Era stint as Justin 'Hawk' and a member of The New Blackjacks appeared to, fittingly, brand him as a loser for life. Respect is due not just for clinging on long enough to get his shot, but at very least shining as a promo when opportunity knocked.