10 Incredible Transformations From Jobbers To WWE Champions
9. Jeff Hardy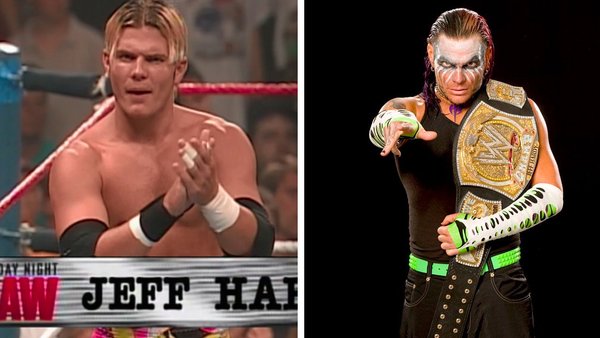 Jeff Hardy was just 16 when Razor Ramon beat the sh*t out of him in a Raw squash in 1994. His WWE contact Gary Sabaugh had lied about his age to take advantage of an unexpected situation when planned opponent Keith Davis no-showed taking a notoriously stiff kicking from 'The Bad Guy'. As Davis, Hardy stepped in and took his lumps and made such a good impression in the role that he'd keep it for the better part of five years.
It's hard to know if WWE were complimenting Matt and Jeff or not during their early days with the organisation. In an era where jobber squashes started to disappear, the North Carolinians kept their plaid-covered places as weekend television regulars looking at the lights. By 1997, the future 'Charismatic Enigma' was chosen to given ECW "invader" Rob Van Dam a strong television win, and the pair were decimated by Kane during his original Undertaker-chasing reign of terror.
The commendable bumping and selling the pair offered wasn't transferred into anything meaningful until Michael Hayes managed them in 1999. A wholesale aesthetic change and daring feud with Edge & Christian was the point of no return, but the two had the benefit of feeling brand spanking new even if they'd been there all along.