10 Insane Wrestling Stories Nobody Ever Talks About
3. Diss The Diva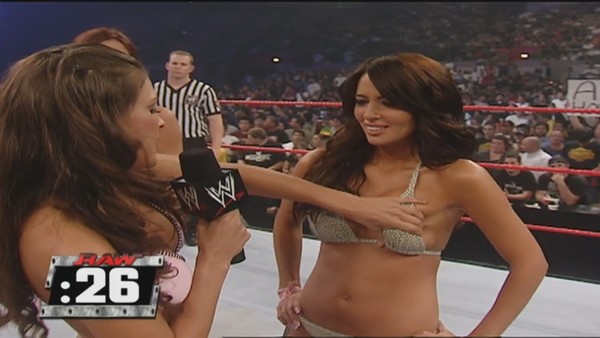 This actually happened, and it isn't discussed anywhere near enough for how inexplicable it was. This isn't crazed wrestling apocrypha that is probably embellished to sell more shoot interview DVDs.
On national television, Christy Hemme called fellow contestant Carmella "a c*m-burping gutterslut".
That is the most disgusting thought to have ever oozed from the orifice of WWE, or at least it was, until Cedric Alexander thought he was being really clever by getting the sh*t kicked out of him while he happened to be wearing a mask.
In 2004, the remaining contestants in the Diva Search played 'Diss The Diva', a game in which they said just awful things to one another - "You got a gap so big you could drive a truck through there, baby" - in an outrageous quest to win $250,000. The women were so remorseless in the process that they have more in common with the sharks of the Attitude Era than this current generation of actual talent. Sobering.
Incredibly, Kevin Dunn ahead of the Diva Search promised that WWE would bring some "sophistication" to the proceedings. Vince McMahon also used the word "sophisticated" to describe the WWE product of 2019, so expect Maria Kanellis on RAW next week to describe her husband as a loser with no c*ck.