10 Modern WWE Moments You Totally Don't Remember
9. Sami Zayn's Managerial License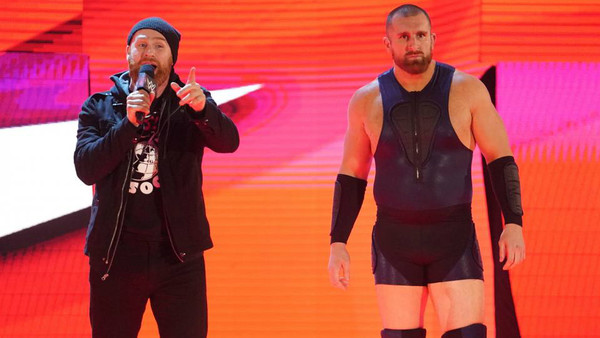 Mojo Rawley's WWE career is wild: an acute microcosm of WWE's probably ill-advised "those stupid f*cking marks won't remember this next week" long-term booking strategy.
Horny on main ex-football player; Zack Ryder's tag team partner; Luna Vachon cosplayer experiencing existential crisis; lackey of fellow mid-air dry-humper Rob 'The Gronk' Gronkowski; and, for literally one week, associate of Sami Zayn.
What follows is not a joke: this is such a forgotten development that there isn't a single mention of it on Rawley's Wikipedia page.
This happened on December 19. After Seth Rollins retreated from a pipe-wielding Kevin Owens at the beginning of their big WrestleMania angle (they of course had worked a lengthy match that went to a non-finish weeks earlier), SmackDown's Sami Zayn appeared by the entrance ramp. Famously liked by management, who never once booked him as the annoying twerp they perceive him to be, Zayn was able to pull some strings and obtain a managerial license in order to guide Mojo's career. Owens promptly destroyed Rawley with said pipe.
Didn't Zayn already have a license? He was established as Cesaro and Shinsuke Nakamura's manager by that point.
In another, more accurate question: who gave a toss?