10 Most Insane Wrestling Spots Of The Week (Aug 13)
8. Pedigree Mishap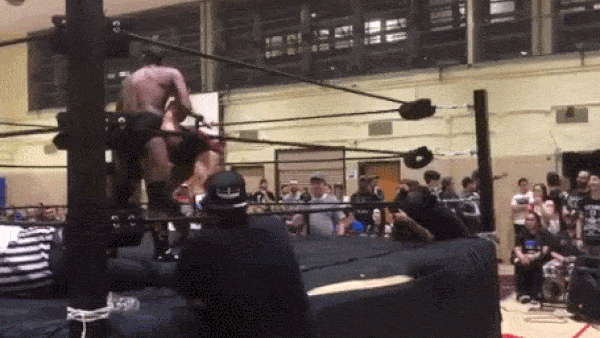 Pete Dunne took on Darius Carter at a Battle Club Pro event on August 11th. Spots from indie shows don't generally get coverage on this list, except when current WWE title holders suffer legit injuries.
Dunne had to cancel his matches for Progress on the subsequent nights, which was explained by Jim Smallman on Twitter: "He's received eleven stitches to his temple. It's quite a nasty injury..."
Credit to Twitter user @ThePrideof NYC for sharing this view of the botched spot and for picking up the comment that Dunne's injury came from landing face first on a title belt. The ring post makes it a little hard to see how bad the landing was for Pete's face. What can be seen is that Darius doesn't let go of The Bruiserweight's arms during the maneuver.